Top Upcoming IDOs in December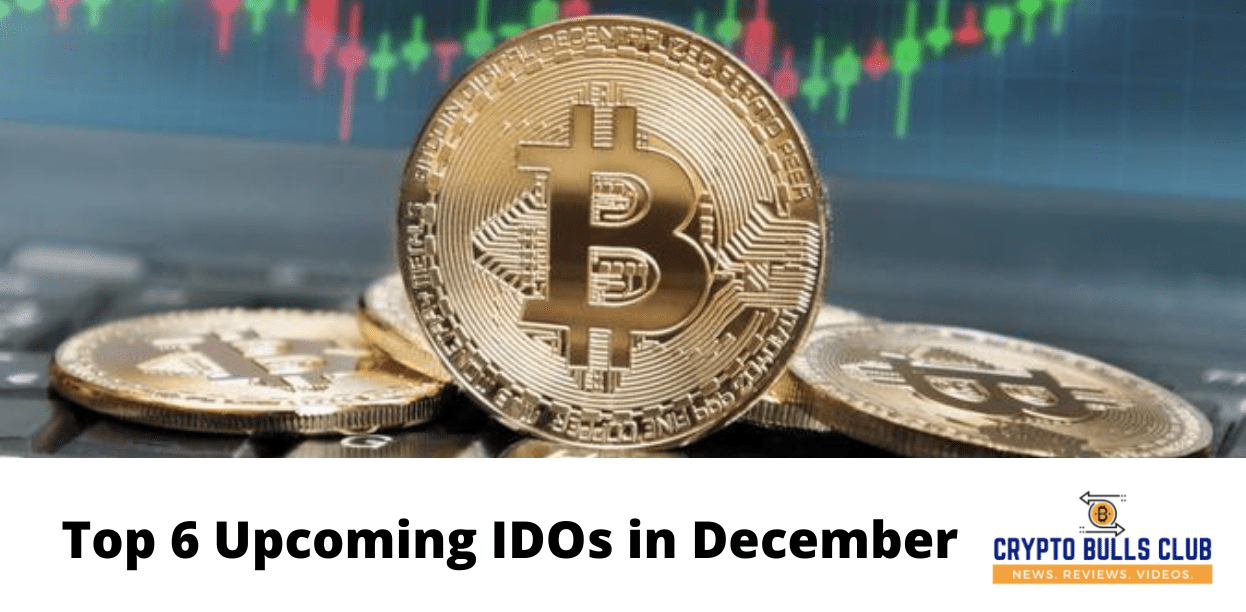 IDO, which also stands for Initial DEX Offering, is among the most popular terms in the cryptocurrency world in 2021. Over the last four years, token public sales have progressed. The IDO model is indeed the direct descendant of crypto fundraising techniques such as Initial Coin Offerings (ICOs), Security Token Offerings (STOs), and Initial Exchange Offerings (IEOs). In this article we have covered what exactly are IDOs and what are the top 6 upcoming IDOs in December. 
What Are Initial DEX Offerings (IDO)?
Initial DEX offerings (also known as IDOs for short) are yet another method for a blockchain venture to raise funds by allowing tokens to be sold straight to the people. The key distinction between an IDO and other methodologies would be that the tokens sold in an IDO are offered to host on a decentralised exchange, or DEX. 
Undoubtedly, IDOs are prominent with projects centred on decentralised finance (DeFi) and privacy, and both of which have decentralisation at their core as well as non-fungible tokens (NFTs) initiatives that are as cool as the DeFi sector.
How to Participate in an IDO?
Getting into an IDO necessitates two major components: pre-purchasing launchpad tokens as well as winning a lottery.
Acquire Whitelisting on IDO Launchpads
Whitelists are a feature shared by major launching pads for decentralised exchange offerings on blockchains including Ethereum, Binance Smart Chain, Polkadot, Solana, as well as Cardano. In overall, getting whitelisting your eligibility of participating in the IDO. Possessing a minimum amount of the launching pad's native token or coin lets you participate in the IDO based on the tier, with larger holdings achieving more entries. 
Complete KYC and Connect the Wallet 
Whitelisting usually includes Know Your Customer checks, as well as buyers requiring a Web 3.0 wallet such as Metamask. 
Upcoming IDO Calendar December 2021
PROJECT
IDO PLATFORM
DATE
SIDUS
Blokpad

15/12/21

Gamefi
Redkite
Paid
Trustpad
Spaceswap
Seedify
MouseHaunt
Seedify
20/12/21
Hololoot
Seedify
10/12/21
Synapse
11/12/21
EnjinStarter
12/12/2021
Geopoly
Poolz

13/12/21 and
14/12/21

Seedify
EnjinStarter
NFTPAD
Synchrony
SolRazr
6/12/2021
Solanium
2/12/2021
MetaVpad
BSCPAD

12/12/2021

TronPad
KCCPad
NFTLaunch
Gamezone
VelasPad
ADAPad
ETHPad
Top 6 Upcoming IDOs in December
SIDUS and SENATE: Best Upcoming IDO in December
Sidus Heroes is happy to introduce its upcoming Initial DEX Offering (IDO) as well as the release of its native SENATE and SIDUS tokens on multiple platforms such as BLOKPAD, Ignition, TrustPad, SpaceSwap, Red Kite, GameFI, as well as Seedify.
The IDO will launch on various platforms on December 15th, 2021. SIDUS will distribute its tokens among all platforms in an equal part (50 percent SENATE and 50 percent SIDUS), with just a fixed price of $0.18 for the SENATE and $0.0018 for the SIDUS.
The precise number of tokens available on every platform will be declared closer to the launch date.
Holders of SENATE seats will be capable of expressing their political opinions as well as influence the project's growth. The token could also be used to purchase unique in-game products that improve gameplay.
SIDUS will also be widely available inside the game, but users will not have any voting power.
We also did a detailed article on how to participate in Sidus Heroes IDO.
Watch our video review of Sidus Heroes.
MouseHaunt
MouseHaunt is a team-based 3D isometric multi – player game developed by Isoforce Games as well as supported by the Leeroy Pad team. It presents new playing styles and welcomes players to make techniques in an unusual way with an asymmetric game project for which players face one another with different types of resources.
There are two teams in MouseHaunt: the Mouse Heroes as well as the Ghosts. A Mice Heroes' goal is to get their little paws just on cheese whereas the ghosts' goal is to keep them from getting it. Mouse Haunt's economy will be based on blockchain technology.
Users  can invest in the game and rent out their NFTs to many other players. $MHT (Mouse Haunt Token) will indeed be sold to the users via whitelist as well as at market-leading launchpads.
For the play to earn model, 36,000,000 MHT are allocated and for staking, 11,750,000 MHT are allocated. 
Hololoot
Another fantastic IGO seems to be on the way. Hololoot wants to introduce the world's first AR-NFT, marketplace, as well as a Metaverse generator, which is intended for widespread adoption. It was created by veterans of the AR sector and combines the most recent advances in 3D modelling with the special characteristics of NFT to create a strong and simple-to-use simultaneous app.
And over a billion devices by now support augmented reality and almost every mobile phone is capable of augmented reality.
Hololoot's native HOL token will indeed be distributed through the 3 launchpads Seedify on 10th December, Synapse on 11th December, and Enjinstarter on 12th December.
Geopoly
Geopoly is an economic simulation application that allows users to rent, buy, improve, and promote economic sectors based on their location.
The first non-Pay2win economic monopolised game in which gamers can use Geolocation character traits to purchase their preferred personality characteristics.
The former Microsoft employees founded Widow Games in the year 2013. The token sale will start on 13 December, 2021.
Poolz, Seedify, and EnjinStarter will host the IDO. This business can generate GEO$ Tokens in a passive manner. In addition, special locations based on real-world locations will enhance your in-game economy. As a result, it is preferable to purchase an NFT in Geopoly.
Based on the hype factor and IDO platforms, It is believed that this project will succeed. Seedify, including some of the IDO platforms, are good IDO platforms, and therefore anything listed on them will generate multi-X returns on investment.
You can read out detailed review of Geopoly crypto project here
Watch out video on Geopoly IDO Review.
Synchrony
Synchrony is a state of art decentralised asset management framework that employs an advanced suite of analytics and machine learning algorithms to analyse and optimise collections of on-chain instruments, resulting in one-click alternatives for diversifying exposure to an ecosystem's primitives.
The platform's major characteristics are copy-trading as well as composable indices, both of which are aided by a friendly Defi Farmer's market, a place to socialise with the entire Solana blockchain from a single site.
The Synchrony token will be called $SCY, as well as the total initial supply will be 1,000,000,000.00 SCY. The Synchrony IDO will indeed be launched on 6th December, 2021 on Solanium platform.
MetaVpad
The Metavpad cryptocurrency needs to focus on providing a platform for initial metaverse investors; this is significant because metaverse innovation has become the new center for tech enthusiasts in the world today. It is MetaVerse's first deflationary launchpad.MetaVPad will begin with a market cap of $170,000.
To take part in IDO, users must have finished KYC and be staking their $METAV for at least three hours prior to the start of the IDO.
Bscpad, TronPad, KCCPad, GameZone, NFTLaunch, VelasPad, ADAPad and ETHPad will host this IDO.
More details about the IDO date and token will be released very soon on its official website.
MetaVPad will begin with a market cap of $170,000. To take part in IDO, users must have finished KYC and be staking their $METAV for at least three hours prior to the start of the IDO.
Which one is your favorite IDO for December?
We will encourage our readers to participate in the upcoming IDOs that are going to be held in December. So that you do not miss out. Given the hype surrounding IDO platforms, I believe these projects will succeed. Many people are very elated about the Metaverse right now. There seem to be a lot of people who want to seize this opportunity of being this timely and investing in the Metaverse-related assets.
Undoubtedly, all of this is financially risky. We can't be sure which one of these IDOs will be successful, as there are a lot of factors that are involved in a successful IDO.
Crypto and NFTs in general are indeed a risky investment, thus one should not invest their entire savings in the cryptocurrencies. However, after our research we think all these IDOs will give multiple-Xs return this month.
My best upcoming project for this month is Sidus Heroes IDO. Please do let us know if you sincerely think something is missing from this article, or if you simply want to provide feedback or discuss the above article with others. If you have any general questions about the topic, please post them in the comments section.