Top 5 Play-to-earn NFT Games 2021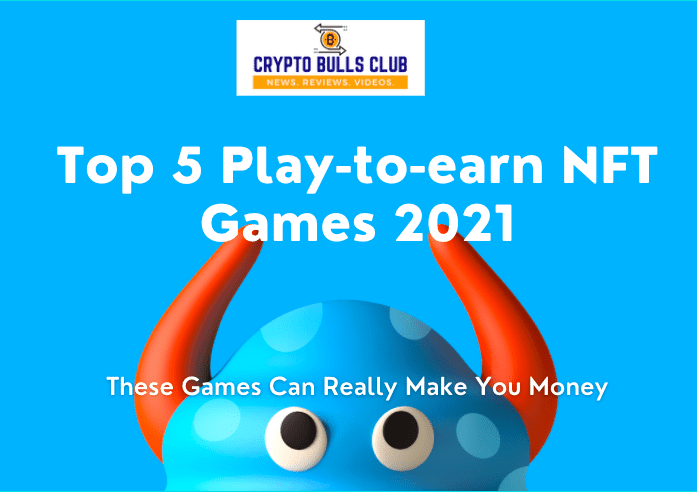 Play-to-earn NFT games have gained massive popularity in Q3 2021. It utilizes the essence of conventional gaming systems with additional mechanisms where the user has greater access in terms of personalization and control over the entities within the game's ecosystem, such as skins, characters, weapons, virtual lands and many more. Users are paid for spending their time and energy for playing these games, that are powered by a blockchain network.
The usage of NFT tokens and their standards offers developers an opportunity to maintain the rarity and uniqueness of a few of the collectibles in NFT games. Due to this, certain game assets fuelled by the blockchain are more expensive than other game assets.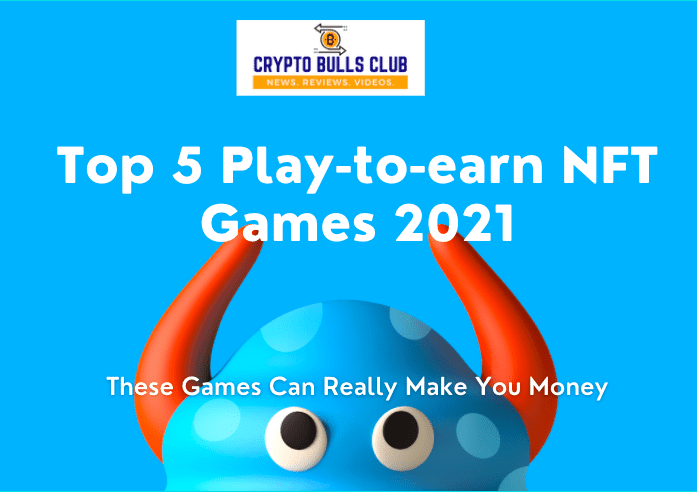 What are Play to earn NFT Games?
Play to earn NFT games are blockchain based games where users can play, and make money by playing, acquiring and trading game based assets etc.
The players have sufficient control and ownership over their digital collectibles, however to maintain their power, they are required to play strategically by creating or breeding new game characters, buy digital collectibles on the native or other third party platforms, or unlock as well as earn new items.
The players can choose to either distribute or sell them, receiving funds to their wallets from the trade. This is why this gaming mechanism is specifically known as play-to-earn.
Now that we have learnt what are play-to-earn NFT games, let us look at top 5 NFT games that you can play and earn crypto in 2021.
Top 5 Play to earn NFT games to play in August 2021
Axie Infinity
Gods Unchained
Splinterlands
The Sandbox 3D
Spaceport
5 Best Play to Earn NFT Games 2021
Axie Infinity: My Favorite Play-to-Earn NFT Game of 2021
Axie Infinity employs a gaming system that is very similar to the popular game, Pokemon Go. It is a game based on the Ethereum blockchain network where the players are required to collect and breed digital creatures known as Axies. These characters have their own strengths and weaknesses that forms individualistic characteristics. These characteristics are genetic and can be passed on to the offspring. Axies are used for battling other players on the game.
The co-founders of Axie Infinity are Trung Nguyen and Tu Doan.
To begin playing the game, the player is required to buy a minimum of three Axies. For every player-versus-player (PVP) battle, and adventure mode, the player receives Smooth Love Portion (SLP) as a reward which is the platform's native ERC-20 utility token.  Axis Infinity Shard (AXS) is the other ERC-20 utility token which is native to the game , which is used for anchoring and governing the platform.
The developers of the game aim to add new features such as Axie Battle and Axie Land in the upcoming future. Note, that Axie Infinity is not a free game, players are required to pay for playing the game.
Gods Unchained
Gods Unchained is a game that is free of cost for playing. It is a card trading game, where the players collect cards by buying them from other players or winning Player versus Player (PVP) battles. The quality of cards and the gaming skill of players are the main factors that determine the win. Greater emphasis is provided on the player's skills and strategy, as it utilizes a ranked game mode, where the players are matched according to their ratings.
The cards are powered by an ERC-721 token and thus, they can be traded on the game's native marketplace or the open market. When the cards are sold, players receive payment in the form of GODS, a native token.
Splinterlands
Splinterlands is similar to Gods Unchained. It is a card trading game. To get started with Splinterlands,the player has to purchase a starter pack of cards, register for a new Steem account and disclose the purchased cards on Splinterlands. Some players get lucky and obtain rare cards with their first purchased set of cards. If the player finds multiple copies of the same card, they are allowed to combine identical cards and either choose to boost their power or sell one of the cards, for payments in the form of cryptocurrencies.
Once the player is familiar with the game and the cards, they can proceed to battle against other players or take part in quests. The outcome of these tasks will decide if the player earns more cards or not.
The Sandbox 3D
The Sandbox 3D is a voxel-based gaming ecosystem which is one of the most active NFT gaming platforms, where players are allowed to create and trade virtual assets. The players are allowed to manipulate and monetize the voxel assets. It is a blockchain version of extremely popular games such as Minecraft and Roblox.
The platform provides tools to build and animate items and eventually sell them on marketplaces. Users can additionally build and play games, that are customized on the platform.
Sandbox 3D has launched SAND, an ERC-20 token, as the native token of the metaverse that runs on the Ethereum blockchain network. Players can buy in-game items by using these tokens as currency on the platform's marketplace. LAND are other NFT tokens which are considered to be one of the most valuable assets that are highly searched for within the Sandbox gaming ecosystem. A remarkable record of $8.5 million USD in LAND sales was attained in April, 2021.
Also Read:
Spaceport
Spaceport if a space based play to earn game that is based on BSC blockchain. It is one of the smallest marketcap Play-To-Earn game. You can make at max 10 percent of your holding per day. You can earn based on the highest score you make within 24 hours. The higher the score, the more money you can make. You can get started with a very small amount. If you would like to play Spaceport, click here.
At the time of writing, I have made around 5.7 USD playing Spaceport in 4 days. Read more about Spaceport here