Buying Virtual Land in Metaverse: Where and How to buy?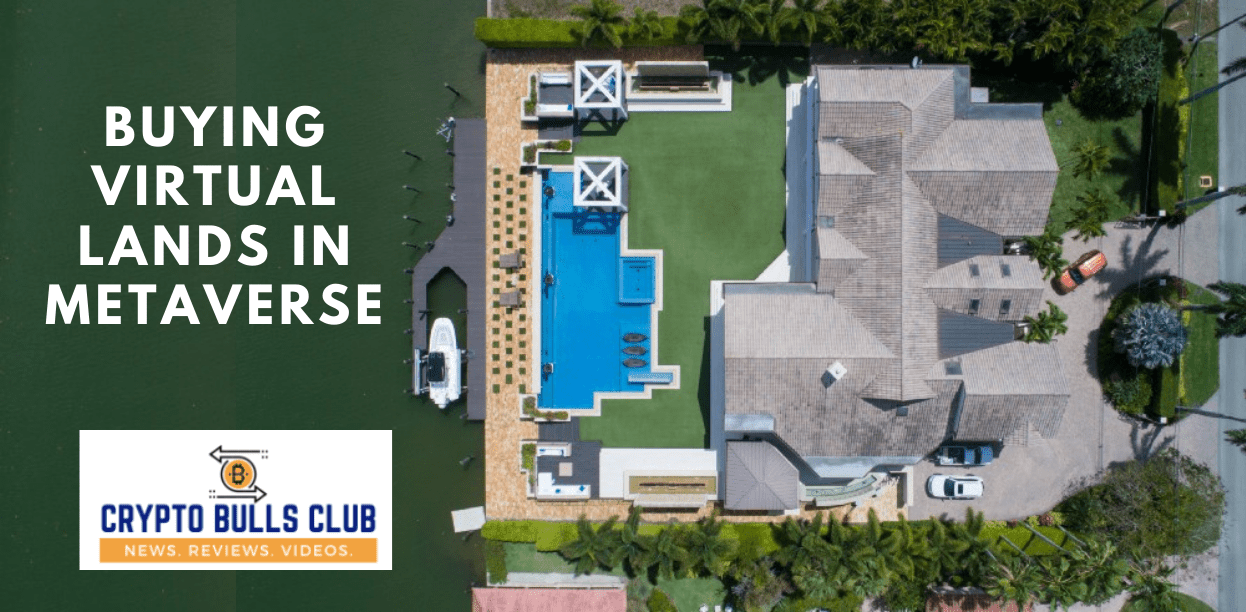 Metaverse is currently making headlines in the cryptocurrency world. A Metaverse that exists between physical and virtual reality and in which real-world geolocations on a partitioned map correspond to user-generated digital virtual environments. These environments can be owned, purchased, and sold, as well as deeply customised in the near future.
Buying virtual land in Metaverse is a significant step for many people, but it is a rewarding one. This article will explain how to acquire land in Metaverse.
What exactly is Virtual Land, and what can you do with it?
Real money is being spent by investors to purchase land in a new city that only exists in virtual reality. Buyers in Decentraland can construct whatever they want on their plots. Many people hope to make money by trading goods and services in the virtual world's own cryptocurrency. In virtual worlds, investors buy plots of land and strong communities boost desirability, a new spin on the American dream is gaining traction.
Why do people purchase Virtual Land?
Here are the few reasons given for the need of buying virtual land:
New asset class
Digital real estate has established itself as a legitimate asset class. Its value is increasing at an exponential rate, making it an attractive investment opportunity. It also appears to have the potential to become a feasible financial asset, similar to real-world art and real-world real estate.
FOMO (Fear Of Missing Out)
A sick feeling that they might miss out on something fantastic is a strong motivator for people to buy great reals or virtuals. Many people missed out on buying Bitcoin when it was very cheap, prompting them to look into alternative products such as virtual land.
Enormous Returns
Because of their orientation with the rapidly expanding crypto-investment universe, virtual land have the potential to deliver enormous returns. The convenience of flipping the land (as they do with real estate) and a consistent bull market have enabled many people to earn thousands of dollars in a short period of time.
Additional earning opportunities
Virtual land open up new possibilities for what can be done with the land in the long term, such as building art galleries, doing ad campaigns, or simply renting it out for others to construct on and earn money. Some users create virtual casinos on their virtual land. Big retailers are also looking into the possibility of opening stores in virtual reality.
Simpler than buying real estate
Digital real estate also avoids the major pain points associated with real-world sales, such as extensive paperwork, land maintenance, and taxes to be paid. The use of blockchain technology also improves the security and traceability of land purchases.
Low entry barrier
Land prices are increasing all over the world, but virtual ones offer comparable benefits for less than 1% of the cost. As a result, purchasing real land may be out of reach for many people, whereas purchasing virtual land has a lower impact on one's bank account.
From where should we buy Virtual Land?
There are many Virtual Worlds all around us that we are not aware of; they exist and evolve all the time even when we are walking down the street or looking out the window. Since the introduction of Virtual Reality and Augmented Reality, many companies have stepped forward to create virtual worlds that can be viewed using compatible devices such as computers, mobile phones, or even suitable headsets.
The following are the major players in space for buying virtual land as well as how much money people have had to invest to date in order to own a piece of it.
Decentraland
A virtual reality marketplace operated by the Ethereum blockchain, completed 129,283 land sales for a total of $$92,207,386.52, at an average price of 713 USD, as on November 18, 2021. If you wish to buy a plot on Decentaland marketplace, visit the marketplace, login with metmask and find the plots that are on sale. Land in Decentraland is not cheap, with MANA's price going up, the owners of the land inside Decentraland are making a lot of money.
Cheapest parcel is available for more than 10k USD.
Read in Detail: Buying Land in Decentraland: Guide
Axie Infinity
A virtual pet group focused on gathering, mentoring, raising, and fighting fantasy organisms known as Axie, had 822,567 sales bringing the total $162,692,497.1 at an average price of $197.79. Cheapest land in Axie Infinity currently costs 13000 USD. To purchase a land in Axie Infinity, click here.
Have a look at the recently sold and listed land in Axie Infinity.
Sandbox
A community-driven UGC-voxel system where users purchase their land and host their innovative magic. Cheapest land costs 2980 SAND. To purchase land in Sandbox, click here. Connect with your metamask, and buy. Till date, a total of 123417 sales have taken place inside Sandbox, bringing a total revenue of 112256038 USD at an average price of 909 USD
The average land price has increased drastically over the last one month.
Read in Detail: Buying Land in the Sandbox: Guide
Netvrk: Upcoming Metaverse
Netvrk is building a metaverse a virtual reality universe, where users can meet other people, earn money, build homes etc. In Netvrk, mountains, rivers, homes are all unique. Users can regenerate the land using easy to use scalpting tools. They can build homes using drag and build options. The metaverse is not live yet. However, once done, you should be able to buy land on Netvrk.
Some other upcoming Metaverses I am bullish about is NAKAVERSE and BLOKTOPIA. Once the land are available to be bought on these metaverses, I, personally will hope in to buy some virtual land for me.
Buying Virtual Land in Metaverse: Note of Warning
When it comes to buying virtual land (and even cryptocurrencies or NFT), profits quickly overshadow clarity and underlying mechanism. Following the coronavirus crisis, many new arrivals to this ecosystem are exploring a new way to make money. While some are merely trying to reserve large amounts of money earned from cryptocurrencies such as Bitcoin, these factors are undeniably going to contribute to the current bull run for virtual land.
To some, it may appear to be a futile endeavour, but people are spending millions of hours every day in virtual worlds. As long as people believe something is valuable, it will remain valuable. Sure, there will be some short term investors looking to profit from virtual plots in the hopes that their value will boost up. Others, on the other hand, will simply want to have access to these plots because they enjoy it.