Buying Virtual Land in Metaverse: Where and How to buy in 2023?

Metaverse is currently making headlines in the cryptocurrency world. A Metaverse that exists between physical and virtual reality and in which real-world geolocations on a partitioned map correspond to user-generated digital virtual environments. These environments can be owned, purchased, and sold, as well as deeply customised in the near future.
Buying virtual land in Metaverse is a significant step for many people, but it is a rewarding one. This article will explain how to acquire land in Metaverse.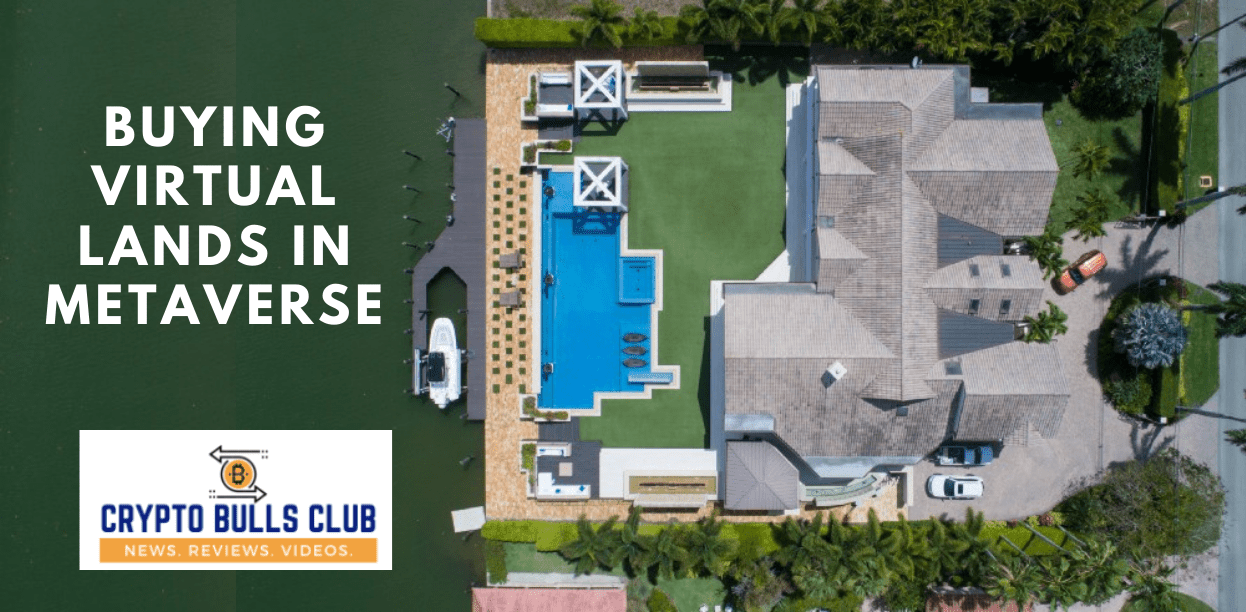 What exactly is Virtual Land, and what can you do with it?
Real money is being spent by investors to purchase land in a new city that only exists in virtual reality. Buyers in Decentraland can construct whatever they want on their plots. Many people hope to make money by trading goods and services in the virtual world's own cryptocurrency. In virtual worlds, investors buy plots of land and strong communities boost desirability, a new spin on the American dream is gaining traction.
Why do people purchase Virtual Land?
Here are the few reasons given for the need of buying virtual land:
New asset class
Digital real estate has established itself as a legitimate asset class. Its value is increasing at an exponential rate, making it an attractive investment opportunity. It also appears to have the potential to become a feasible financial asset, similar to real-world art and real-world real estate.
FOMO (Fear Of Missing Out)
A sick feeling that they might miss out on something fantastic is a strong motivator for people to buy great reals or virtuals. Many people missed out on buying Bitcoin when it was very cheap, prompting them to look into alternative products such as virtual land.
Enormous Returns
Because of their orientation with the rapidly expanding crypto-investment universe, virtual land have the potential to deliver enormous returns. The convenience of flipping the land (as they do with real estate) and a consistent bull market have enabled many people to earn thousands of dollars in a short period of time.
Additional earning opportunities
Virtual land open up new possibilities for what can be done with the land in the long term, such as building art galleries, doing ad campaigns, or simply renting it out for others to construct on and earn money. Some users create virtual casinos on their virtual land. Big retailers are also looking into the possibility of opening stores in virtual reality.
Simpler than buying real estate
Digital real estate also avoids the major pain points associated with real-world sales, such as extensive paperwork, land maintenance, and taxes to be paid. The use of blockchain technology also improves the security and traceability of land purchases.
Low entry barrier
Land prices are increasing all over the world, but virtual ones offer comparable benefits for less than 1% of the cost. As a result, purchasing real land may be out of reach for many people, whereas purchasing virtual land has a lower impact on one's bank account.
From where should we buy Virtual Land in 2023?
There are many Virtual Worlds all around us that we are not aware of; they exist and evolve all the time even when we are walking down the street or looking out the window. Since the introduction of Virtual Reality and Augmented Reality, many companies have stepped forward to create virtual worlds that can be viewed using compatible devices such as computers, mobile phones, or even suitable headsets.
The following are the major metaverse platforms for buying virtual land in 2023. Also learn, how much money people have to invest to date in order to own a piece of it. 
Decentraland
Decentraland is A virtual reality marketplace operated by the Ethereum blockchain. As of 11 December 2022, the platform has completed 193.33 thousand sales of NFTs and has a total trade volume of sales at 354.65 Million MANA, which is 174.15 thousand dollars. MANA is the native token of the platform.
Currently, it is priced at around 0.3 dollars with a Fully Diluted Market Cap of 868,865,402 USD, a Trading volume of 43,374,086 USD and a Circulating Supply of 1,855,084,192 MANA. Buying a plot on Decentraland marketplace isn't very complicated. To do so you will have to visit the marketplace (Decentraland – Marketplace), log in with your MetaMask wallet and look for the available plots that you wish to buy.
Land in Decentraland is not cheap, with MANA's price going up, the owners of the land inside Decentraland are making a lot of money. The platform also allows its users to Buy property. Design landscapes, Shop, Create businesses, Play world games, and Socialize and chat.
The cheapest parcel is available for more than 10k USD.
To know whether Decentraland is a good place to put in your funds, read our article on Buying Land in Decentraland – Is Decentraland Land a Good Investment? (2023 Updated)
Axie Infinity
Axie Infinity is a virtual pet group focused on gathering, mentoring, raising, and fighting fantasy organisms. The platform has a player-owned economy which implies that the users are granted complete ownership of their digital assets and are allowed to buy, sell, and trade those assets just like physical trading cards and collectables.
Axie Infinity has seen partners in many big names like Samsung Electronics Co., Ltd, Binance, High Tech Computer Corporation, Kyber Network, Ubisoft Entertainment SA, and Klaytn Foundation. Currently, the platform sees 2,800,000 and more Daily active players and has seen trade of over $3.6Bn on its marketplace. the lowest plot is available at 0.94 ETH which is also $1,196.33 USD. It has 16,794 Plots in total, of which 100 are for sale.
In the last one month, Axie Infinity has witnessed 161,218 total sales, with a total volume of 1,459.4 ETH. The platform's native token is AXS, which is valued at $8.15 USD as of 11 December 2022. the token has a Circulating Supply of 100,564,114 AXS and a Fully Diluted Market Cap of $2,198,254,240 USD.
To purchase a land on Axie Infinity, visit Lands | App.Axie
Sandbox
Sandbox is a metaverse based community driven platform. it allows both creators as well as gamers to develop and enjoy a high tech gaming experience. you can easily find 166,464 LANDs in the Sandbox ecosystem. Holding LAND on Sandbox comes with many associated perks and privileges.
It lets you enjoy Hosting Experiences, allows Visiting & Playing perks, provides the option to Hosting Contests, Events & Giveaways, supports Renting out your own LANDs lets you Collaborate with other users and creators to develop a unique experience, enables Earning a passive income through Staking LAND multipliers, allows farming GEMs, promotes earning holder rewards, gives some Governance powers, and provides you with bragging rights.
As of January 2023, public sales of LAND are held on the Polygon Network as opposed to the Ethereum blockchain. By doing this Sandbox is trying to be more environmentally conscious and reduce its carbon footprint, as well as make the LAND more accessible.
You can buy LAND by connecting either one of the supported wallets (which include MetaMask, Coinbase, Bitski, Venly, and WalletConnect Compatible Wallets) and purchasing from the official site.
To buy LAND click on Sandbox Marketplace.
As per the current data, the Floor price of the LAND on Sandbox is 1.11 ETH, which is equal to $1,413.95 USD (keeping in mind the prices on December 11, 2022). The Market Cap of the same is 149,702 ETH or $190,695,632 USD and the platform has currently 22,492 unique owners.
The 24-hour trade volume is established at some 28.5 ETH and the total NFTs minted to date are 134867 in number. You can see all the LAND that comprises Sandbox on The Sandbox Metaverse Map.
To learn more about LAND on Sandbox, and whether or not it is a good investment, read our article on Buying Land in Sandbox: Is Sandbox Land a Good Investment in 2023?
Netvrk Metaverse
Netvrk is building a metaverse a virtual reality universe, where users can meet other people, earn money, build homes etc. Netvrk is described as a "fully scoped, multi-chain metaverse where gaming, entertainment, e-commerce, education, and social enrichment co-exist in one interactive environment, accessible by PC, mobile, and VR tech." The new Metaverse of Netvrk was called Genesis Islands.
This project has around 15,000 NFT parcels, distributed over multiple unique biomes and five distinct districts. Land holders on Netvrk can create headquarters in the metaverse as well as monetize them. Apart from this, there are many other use cases for example
Getting a part of Netvrk Marketplace revenue, in addition to a share of Netvrk NFT royalties.
Enables governance participation through the Netvrk DAO.
Integrate e-commerce storefronts, games, and experiences on their land, and earn money from them.
Allows the renting or delegation of owned land to third parties in a safe, trustless manner.
Supports Land staking as a way to earn Netvrk Reserve distributions
Opensea.io is the platform that you can use to purchase Netvrk Land. To do so visit Netvrk Land – Collection | OpenSea
Netvrk charges a Creator fee of 10% and has seen 2,732 owners of which 26% are unique owners. Netvrk Land has had a total volume of 5,190 ETH and 0.135 ETH as the floor price.
The platform is backed by some renowned names like Polygon network, Ferrum Network, The FORJ Group, Rio DeFi, etc and supports several blockchains like Ethereum, Polygon, Cardano, Solana, Polkadot, Binance Smart Chain, Avalanche and many more.
Buying Virtual Land in Metaverse in 2023: Note of Warning
When it comes to buying virtual land (and even cryptocurrencies or NFT), profits quickly overshadow clarity and underlying mechanism. Following the coronavirus crisis, many new arrivals to this ecosystem are exploring a new way to make money. While some are merely trying to reserve large amounts of money earned from cryptocurrencies such as Bitcoin, these factors are undeniably going to contribute to the current bull run for virtual land.
To some, it may appear to be a futile endeavour, but people are spending millions of hours every day in virtual worlds. As long as people believe something is valuable, it will remain valuable. Sure, there will be some short term investors looking to profit from virtual plots in the hopes that their value will boost up. Others, on the other hand, will simply want to have access to these plots because they enjoy it. 
As is the case with crypto, even Metaverse investments can be quite volatile. A lot of research and smart thinking is required to make good profits in the market. You must make sure to not believe in financial advice from any random portals and only listen to trustworthy and credible sources. In the end, the decision must be entirely yours and not based on here say.
Last updated: 3rd January 2023