How to get zksync airdrop (Potential): Step by Step Guide

What is zkSync? ZKSync is an Ethereum second-layer blockchain that leverages zk-rollups for scalability.
Proactive cryptographic security is included in zero-knowledge-proof systems. ZK Sync's objective is to offer Ethereum with 1000 TPS (transactions per second) while retaining a good degree of censorship resistance as well as keeping money as secure as in the base L1 accounts. The protocol's extremely low latency is another crucial component.
We've just pushed a major update with structural changes designed to improve user experience, increase compatibility with Ethereum's EVM, and upgrade performance on the zkSync v2 testnet.

A long thread, or read the blog post here: https://t.co/L9QJTvFLjI

1/18

— zkSync ∎ (@zksync) June 22, 2022
How to get zkSync airdrop?
The debut of zkSync's native coin has been previously announced. Here is a detailed user guide for you: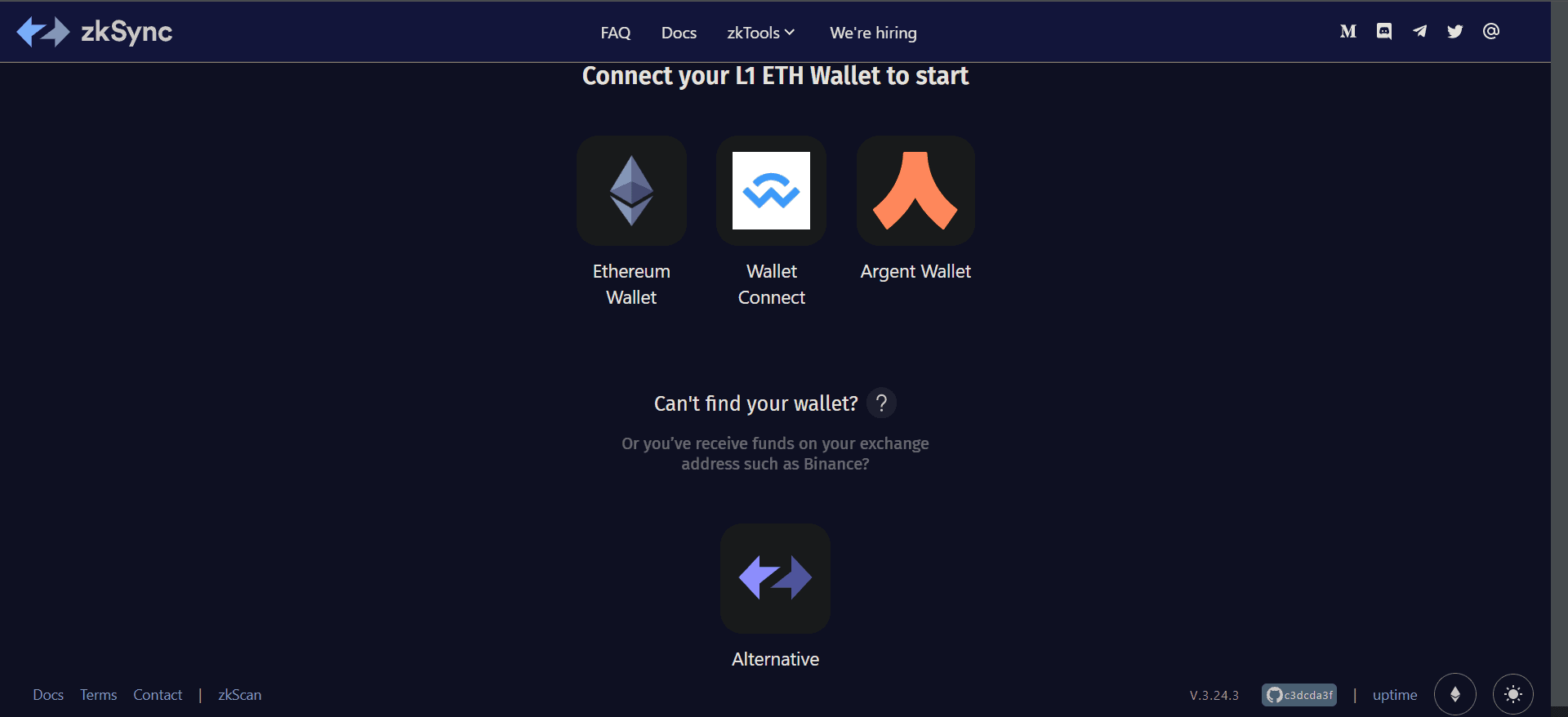 Go to this website: zksync wallet
Click the 'Wallet Connect' option
You'll see a QR code. Scan it to connect your wallet to Ethereum.
After signing, you should connect to zkSync Mainnet. The network will only acknowledge your activity when you have completed a few transactions or approved a token. In this instance, zkSync Mainnet deposits are required.
4. Click the "Top up" button. You may use Ramp to directly fill your L2 Zksync mainnet wallet without utilizing an exchange. Currently, this is the cheapest option to load your L2 Zksync wallet.
Visit the zkSync testnet page(

https://portal.zksync.io/

)

When you connect your Metamask wallet, you will be prompted to switch to the Goerli test network.

You may obtain Goerli test ETH from this site:

https://app.mycrypto.com/add-account
Scan the QR code after clicking "wallet connect"
Use the Deposit, Transfer, and Withdrawal buttons also now. Additionally, click "Faucet" to obtain testnet tokens.

Use zkSync-based dapps like as ZigZag to boost your chances of receiving an airdrop at this website:

trade.zigzag.exchange
Other Activities on zkSync Mainnet
There are some other functions you can perform on the zkSync Mainnet that will help increase your chances of getting an airdrop. These are as follows:
You can bridge certain ETH funds through the ZkSync native Bridge and also put Orbiter Finance to use
As mentioned earlier you can perform some trades on Zigzag: https://trade.zigzag.exchange/bridge
Orbitter can also be employed to perform some bridge transactions
You can very easily Mint Non Fungible Tokens on the ZkSync Mainnet. To do so you will have to go to this link. Then you shall log in with your GitHub account. After this, you can Upload Any image & Copy the CID number > Paste it into the "Content address" Mint the on NFT on ZkSync Mainnet: https://lite.zksync.io/account/nft.
Active Testnet Activities on zkSync
You must join Tevaera which is the very first game built on zkSync. By playing this game you can mint NFT on zkSync Mainnet & Earn Karma Points
You can also use some Dex on zkSync. To do so you may participate in the Sync Swap Testnet, and perform tasks on it. After this just join mute.io and then Swap some ETH tokens to coins like MUTE & Other cryptocurrencies and also Provide LP in possible pairs
You can also join SpaceFi.io and swap on the platform. After you have performed some swaps, enter the Crew3 project & Complete possible tasks & Grab Tester Badge.
Future potential
ZKSync presently does not have a native token. However, the company explicitly states on their tokenomics website that a zkSync native token would be used for staking and becoming a validator in the zkSync network. Users of the zkSync network may get a token distribution, similar to the Optimism airdrop.
For more information on airdrops: