What is WinkLink? WIN Price Prediction, Ratings and Analysis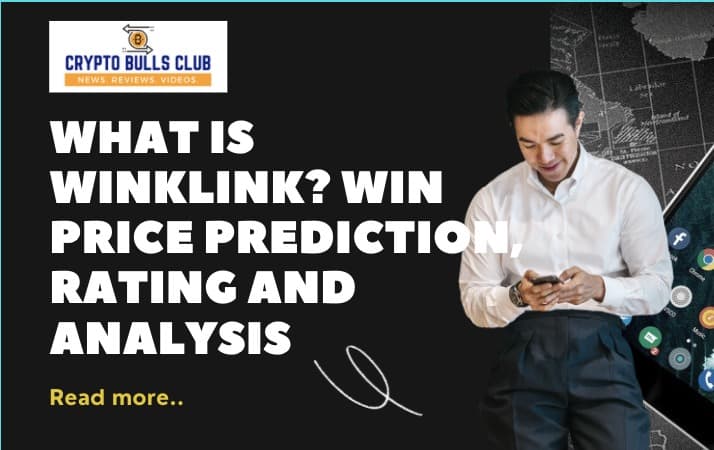 Wink coin is a cryptocurrency used for the payment of fees and to enable transactions on the Wink platform. Wink is a leading gaming platform based on a blockchain network which can be utilized to create decentralized applications or dApps. The platform is based on TRON, providing various tools for game developers in a publicly transparent manner.
The value of the wink coin stems from the users who purchase currency on games enabled by Wink.
The token can be traded on popular exchanges such as Binance, KuCoin, Poloniex, HitBTC.
What is WIN Token?
WIN is a TRON-based TRC20 token and a BEP2 token. It is is a governing token of the WINkLink oracle network.
Previously known as TRONBet, users use the wink tokens to place bets and complete transactions within the platform.  The company believes that staking wink and related coins can be converted through the TRON blockchain which can provide sizeable profits to holders. The annual percentage yields (APY) in double and triple digits.
The smart contracts that empowers Wink's games can be viewed by users ensuring credibility as well as transparency of its entertaining alternatives.
Wink Token: Details
Games Available on WINkLink
Popular games offered by Wink are Dice, Moon, Ring and Duel, and more games that are familiar with casino style games like table games like blackjack, poker and slot machines.
WINk is the seventh token to be offered on the Binance launchpad through an Initial Exchange Offering (IEO).
It is the largest dApp in terms of transaction as well as users volume.  WINk's partnership with TRON will provide a considerate advantage to the ecosystem of gaming.
WINk Use Cases
WINk tokens have the following uses:
Node incentives: The nodes generate reliable and trustworthy data  which will be rewarded with WIN tokens.
Network Payment: Nodes are paid by developers using WIN tokens, requesting for trusted data.
WIN tokens are utilized to incentivize participation from developers and nodes.
Behavioral mining, innovative economic architecture are a few examples of incentive mechanisms supported by the platform.
A wide range of tools for developers and APIs are provided by WINk from which users can build games or new projects from scratch. WINk also has a special token ecosystem and reward distribution mechanism known as WinDrop.
The project offers an opportunity to interact with stablecoins and fiat currency. WINK has planned to add new functions such as a content analysis mechanism, an updated management model, an ecosystem fund in the near future.
The security of the platform is ensured by smart contracts which guarantees its fairness. WINK tokens has taken hits previously with a bearish market, but investors believe that the coins will rise in terms of value and popularity in the upcoming future.
WINkLink Team and Partners
Win Team
The team comprises of B Wong, Alex ye, S Tang, N Yang, Aiden Luo, Jacky Li, JP Shen, C Li, MR Lin, XY Liu, XL Li and JL Lv.
Win Partners
Poloniex, Justswap, PoloniDex, TronLink, TrongGrid, SUN, BitTorrent, TrueUSD, Torrent, dlive, Steem, Steemit, Tether, Bitfinex
WinkLink Social Channels: Telegram and Twitter
How to buy WIN tokens?
Win tokens can be purchased from the following exchanges: Binance, Kucoin, Gate, Poloniex, WazirX, Pancakeswap, Bithumb, WazirX, JustSwap, CoinEx, CoinDCX, BitBns, Dodo,
Buy Wink Coin (Win) with INR
You can buy Wink Coin (Win) with INR from the following exchanges
Buy Win from WazirX: If you want to buy WINkLink coin from an Indian exchange with maximum liquidity, sign up on WazirX.
Buy Win from CoinDCX: You can also buy Win for INR from CoinDCX.
Buy Win from Giottus: Giottus can be used to buy Win tokens with INR too, but there is not much liquidity. If you plan to buy in tokens for a small amount of INR, you can use Giottus.
Buy Wink Coin (WIN) with BTC
Buy WINk from Binance
Buy WINk from Kucoin
Buy WinK from Gate
Buy Wink Coin (WIN) from Decentralised Exchange
Buy Win from Pancakeswap
Buy Wink from Dodo
WINkLink Ratings
Based on the team, ease of purchase, partners, games available to buy, we would rate it 8.5 out of 10.
Wink Price History
The Wink token has a total supply of 994,719,859,246 tokens with a total circulating supply of 766.30B WIN. At the time of writing this article, the Wink token was ranked #34 according to its market capitalization that is $271,978,440 USD.
It was launched in 2019 and the starting price of the token was $0.0004018 USD. It steadily fell through the year 2019 to nearly below $0.0001 USD in the later part of the year.
It was very slowly improving throughout the year 2020 and picked up its pace in early 2021, around February.
The token reached its all time high on April 5th 2021 at 5:30 am, with its value at $0.00268 USD.
However, the price started falling again after May 2021 and is currently priced at $0.0003532 USD (in late July 2021) at the time of writing this article.
Win Trading Analysis: Buy, Hold, or Sell?
Win/BTC Chart Analysis
WINk/BTC has been on the falling side. After reaching its 2021 ATH, WINk's price kept dropping. The price dropped from 500 SATS to 90 SATS. I am expecting the price to keep dropping until we see a reversal.
Win/USDT Chart Analysis
WINk/USDT has been on the falling spree since the second week of April.  The price dropped from a little less than 0.003 USDT to now at 0.00035 USDT. The drop has been more than 90 percent, and it has not stopped yet.
Win Short Term Technical Analysis: Daily
On a daily chart, sentiments are neutral, which indicates the price is near to the bottom.
Win Short Term Technical Analysis: Weekly
On a weekly chart, the sentiments are a SELL.
Conclusion: For me, I would not buy WINK at this point. I would be selling it into BTC and wait for the reversal.
Win Price Predictions: 2021, 2022, 2023, 2024, 2025
Although it is impossible to predict WINK coin's prices correctly, we can definitely do a short and a long term price prediction.
Wink Short Term Price Prediction
| | |
| --- | --- |
| When | Price (in USD) |
| August, 21 | 0.001 |
| September, 21 | 0.0007 |
| October, 21 | 0.00095 |
| November, 21 | 0.0012 |
| December, 21 | 0.002 |
Wink Long Term Price Prediction
| | |
| --- | --- |
| When | ATH Price (in USD) |
| 2021 | 0.002 |
| 2022 | 0.004 |
| 2023 | 0.0001 |
| 2024 | 0.0008 |
| 2025 | 0.01 |
Disclaimer: The WINk price prediction is just an estimate. This is not a financial advice. Please do your own research before investing.
What will WINk be worth in 2025?
As I said earlier, though predicting Win's price in 2025 is easy, predicting it correct is somewhat difficult. I am expecting Wink to have a bull run around 2025, and I am expecting WinK to touch 0.01 USD or 0.77 INR in Indian currency. This is approximately 28x from the current price.
Should You Invest in Wink Coin?
Of all the alts I hold in 2021, Wink is not one of them. I would not invest in WINk coin, given the sentiments are not neutral on daily and bearish on a weekly scale. I would suggest you to watch out for the Bitcoin level, and wait for clear indication from Bitcoin.
What do you think of WinkLink? What is your Wink price prediction for this year and the years to come? Let us know under comments.