SOL vs ETH: What should you buy now in October 2022?

Solana vs ETH: Solana looks to be evolving more quickly now than Ethereum, which is helping it acquire market dominance in industries like NFTs.
Although Layer 1 blockchains still consider Ethereum (ETH) to be the dominant player, it is no longer as dominating as it used to be. Ethereum seems to have focused a lot of its emphasis on The Merge in 2022, which has made it easier for rivals like Solana (SOL) to overtake Ethereum in markets like gaming and NFTs (non-fungible tokens). 
Furthermore, let's be honest: The Merger hasn't performed well in terms of investments. It appeared throughout the summer that Ethereum would soar to unprecedented heights. But Ethereum is currently trading at roughly $1,300, having briefly surpassed the $2,000 barrier in mid-August.
The Merge may have blockchain developers all excited, but cryptocurrency buyers are not. So which is a better investment right now: Solana or Ethereum?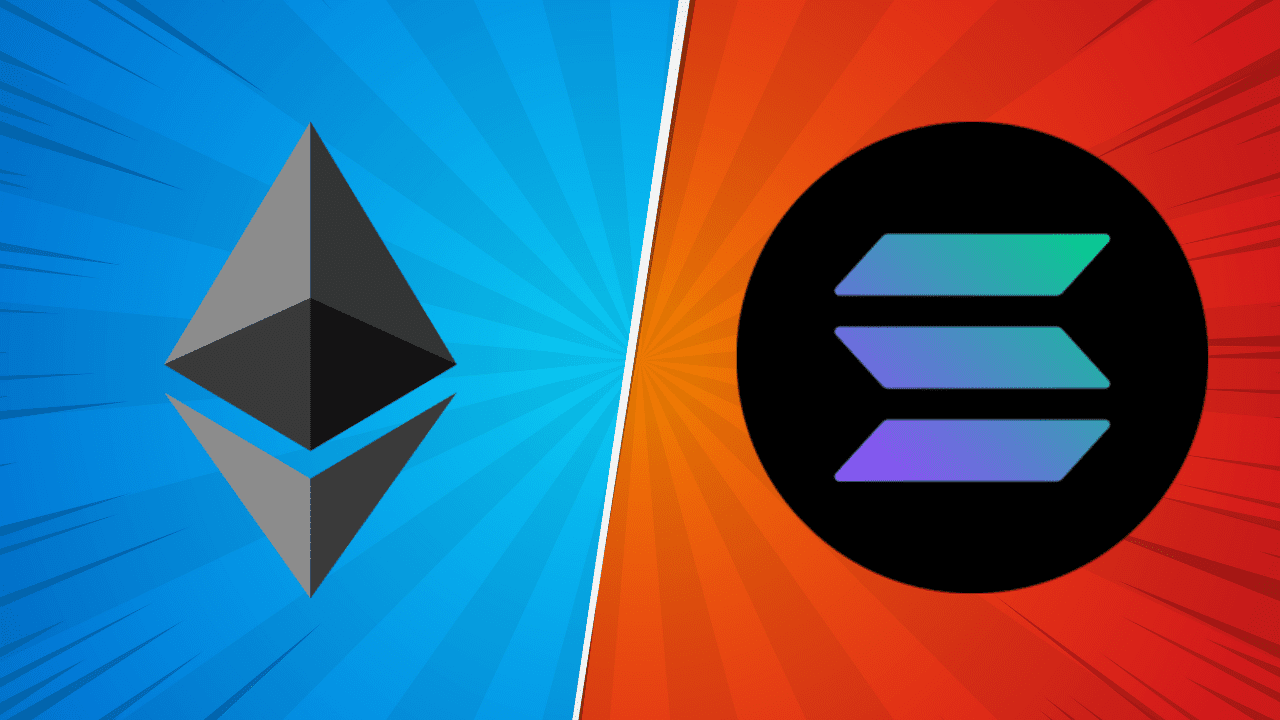 Solana vs Ethereum: NFT
The supremacy of Ethereum over NFTs began to decline around the starting of 2022. According to research from JPMorgan, the entry of competitors like Solana caused Ethereum's market share to fall to 80%. Almost 95% of the NFT marketplace was dominated by Ethereum in 2021, but 80% is still 80%, and most businesses would be satisfied with that level of market dominance. 
The most well-known Ethereum NFT marketplace, OpenSea, is reportedly losing momentum to Magic Eden, an NFT marketplace headquartered in Solana. The Merger might have caused a halt in NFT sales on Ethereum, according to developers.
Solana is now recording the largest trading volumes it has experienced since May, despite the fact that trading activity in Ethereum NFTs was noticeably down throughout the summer. y00ts, a bundle of 15,000 NFTs which must have already caught the eye of celebrities, is now the trendiest Solana NFT collections. This NFT collection is now consistently in the top 10 daily sellers of all NFTs and is to blame for the dramatic increase in Solana NFT traffic.
Ethereum vs Solana: Performance benchmarks
Ethereum appears to be losing market share across the board, not only in the NFT market. Solana reportedly did significantly better than Ethereum in the q2 of this calendar year, according to a new research from blockchain research company Nansen. The findings from Nansen, a company that specializes in the blockchain and cryptocurrency industries, are shocking. The company examined measures including the quantity of new digital wallets being generated as well as the current average volume of transactions. These numbers show that Solana is now experiencing a daily transaction volume that is 40 times more than Ethereum's.
This is mostly because of Solana's quicker transaction times, less costs, and greater throughput capacity. Simply said, everything on Solana is simpler, quicker, and less expensive compared to what happens on Ethereum, therefore it stands to reason that Solana is experiencing a tremendous increase in activity. 
Additionally, Solana is not sitting back and taking things easy. It just unveiled its first-ever Layer 2 scaling solution, which will increase Solana's speed, scalability, and compatibility with other blockchains.
Solana vs Ethereum: Innovation
The ability of these competing blockchains to spur innovation is indeed the issue that worries me the most. Ethereum was once in the forefront. The NFT sector and the idea of smart contracts were only possible by Ethereum. However, it appears that Solana is starting to establish itself as the new category inventor. What was the year's most popular video game release? It was STEPN, the ground-breaking move-to-earn video game on the Solana blockchain. Which blockchain offered a crypto phone initially? You guessed it, Solana was responsible. What cryptocurrency debuted as an actual physical retail shop concept initially? It was Solana once more.
This impressive proof shows that Solana is unquestionably the leading innovator in the blockchain and cryptocurrency industries. I'm prepared to pay more as an investor to get accessibility to this kind of development.
Eth vs Sol: Future
Of course, Solana is not without its challenges. Since reaching an all-time high of $260, the cryptocurrency has lost upwards of 85% of its value for the year. Ethereum, in comparison, has "only" lost 70% of its value this year. But ETH has always possessed the upper hand against Solana due to its early adoption. I don't believe Solana has yet overtaken Ethereum in several areas, such as decentralised finance (DeFi).
However, it's becoming more and more challenging to overlook the reality that Solana is actually beginning to differentiate itself from its Layer 1 blockchain competitors. I wouldn't be shocked if Solana outperformed Ethereum over the course of the next 12 months given how much of a gap it is currently starting to close with Ethereum. Solana is unquestionably the better investment if Ethereum is unable to exhibit significant performance gains following The Merge.
Ethereum vs Solana: Conclusion
Both Ethereum and Solana have their own advantages and disadvantages. But how to choose between Ethereum vs Solana and which one to invest in? Solana is looking better than Ethereum at the moment. With all its rapid expansion, Solana is really contesting against Ethereum.
FAQs
Should I invest $1,000 in Solana right now?
Yes, you can invest in Solana right now. Our advice is to split the 1000 dollars and invest weekly to get a better average.
Which one is faster: Ethererum or Solana?
Solana is much faster than Ethereum.
Solana vs Ethereum which is cheaper?
Solana again wins out in this round, it is much cheaper than Ethereum.
Between Solana and Ethereum, which one is more Decentralised?
Ethereum is more decentralised than Solana or any other Layer 1s.
Related articles you might be interested in:
Disclaimer:
You should not regard any of the article's material as advice of any kind since the information on this page does not represent investment advice, financial advice, trading advice, or any other kind of advice. You should not purchase, sell, or hold any cryptocurrencies, according to this article. Prior to making any investing decisions, do your own research and speak with a financial professional.