'Cryptozoon' Play to Earn Game: A 'Pokemon Go' Type Blockchain Game
Cryptozoon is a play to earn game which is highly inspired by the very popular, Pokemon Go. Its is a complete digital platform that is currently live on the Binance Smart Chain (BSC) and PancakeSwap, it is also listed on CoinGecko as well as CoinMarketCap. Cryptozoon is on the second phase of their development road map. CryptoZoon is hosted on the Binance Smart Chain (BSC).
What we are going to learn?
What is the mission in Cryptozoon?
The mission set out for the players is for the game to build a gaming world filled with digital monsters within the NFT and blockchain ecosystem and Cryptozoon aims to do so in a "simple, creative and enjoyable way."
With CryptoZoon, players use their respective zoons to fight evil monsters, collect, grow and join the training where they can battle against other players in the game.
The developers of the game wish to publicly launch NFT farming and the alpha version launch of Zoon training or PVP (player versus player) arena battles. With more than 70,000 NFTs minted and plans to use influencer marketing, expansion of the game studio's partnerships and obtaining more listings on exchanges.
The rate of development and growth the game is facing is intense, and they might reach the end of their development phases on the growth map well in advance. They wish to release a greater number of Zoan NFT characters, launch the Zoon App mobile game (for iOS as well as Android) and organize the first ever CryptoZoon Global Tournament.
Cryptozoon: ZOON Token Details
The native token used within the gaming system is ZOON. These ZOON tokens are used by the user to purchase Zoan monsters and their eggs. These monstrous creatures and the eggs are integral for playing the game. Note that gamers are not allowed to play, if they do not hold a minimum of one Zoan monster for taking part in Cryptozoon.
The distribution of the current ZOON token is reported to be:
43% for play-to-earn aspect of the game, which is subdivided into three classifications: Monsters Battle (14%), Farming (15%), and Training (14%).
The remaining 57% of the total ZOON tokens are categorized and distributed for: presale purposes (25%) and liquidity pools (25% ), developer wallets (5%), and airdrops (2%).
Cryptozoon Price Chart: Zoon USDT Price
How to play CryptoZoon Play to Earn Game?
Players are required to connect their crypto wallet (Metamask or Trust wallet) to the game to start playing. Unlike other Play to Earn games, CryptoZoon needs only one Zoan monster to begin with. The monsters can be found either in the game shop or at the marketplace of the CryptoZoon mobile app.
Zoan monsters are ranked on their rarity, from rare 1 to rare 6. Higher the rarity, greater the amount the user is eligible to earn. Users can obtain the rare monsters by purchasing the eggs through which a random monster will emerge and sometimes, players just get lucky. They can also buy them directly in the game's marketplace.
After buying one, players can immediately get started and experience the complete game-play.
Users must actively complete daily quests to obtain more ZOON tokens and generate additional profit, simultanoeusly assisting CryptoZoon in escaping the Yaki empire's invasion.
Players can utilize these ZOON tokens to acquire more ZOANs that belong to higher level to amplify their profits with CryptoZoon.
These characters are allotted with different NFT IDs for users to differentiate between identical monsters.
How to Earn by playing Cryptozoon?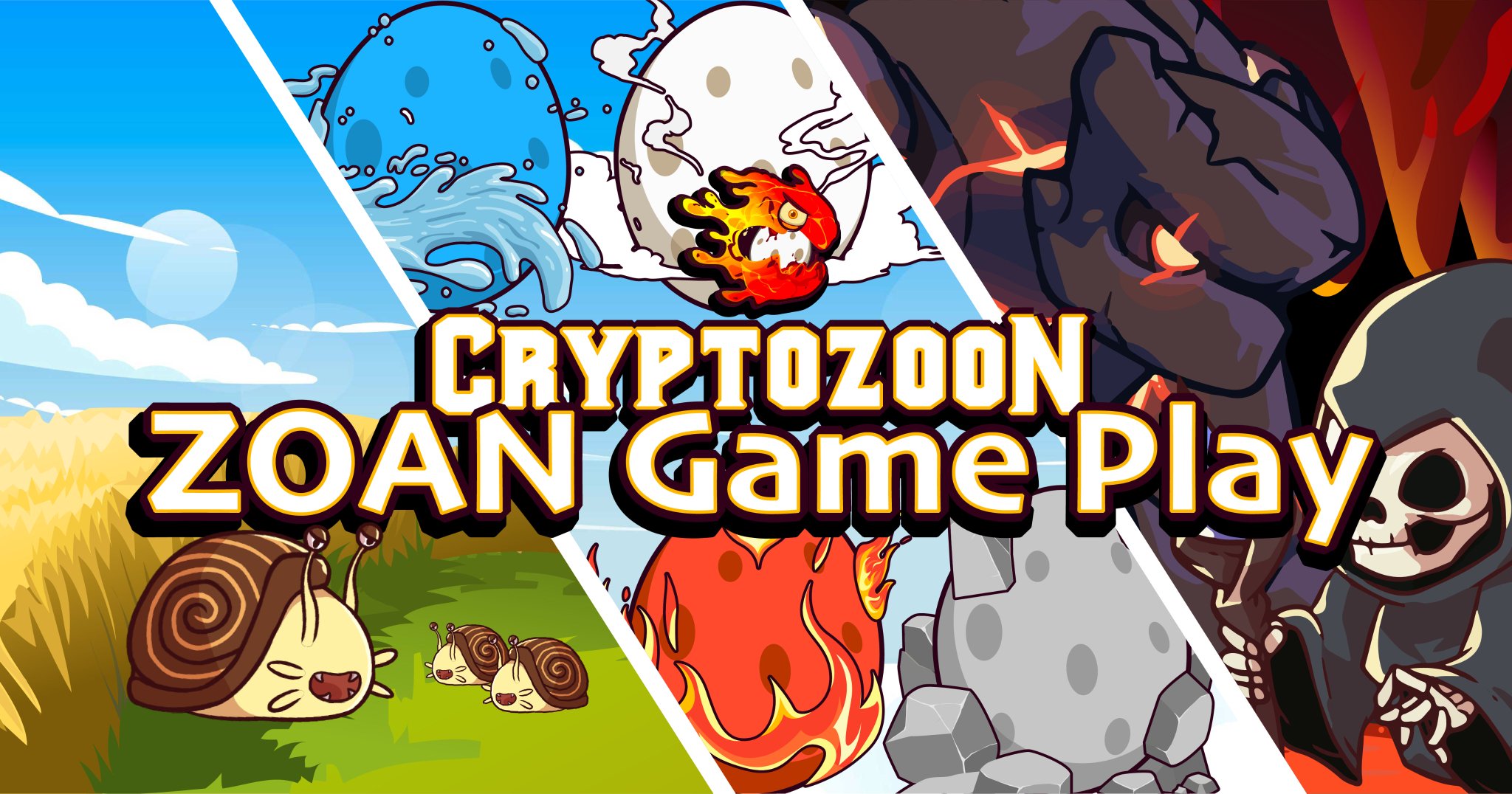 When players choose the training mode, they are required to form a team by choosing three Zoan monsters. Zoans are equipped with unique characteristics, inherent capabilities and more. As the match begins, users have the opportunity to earn more ZOON tokens as a reward, by winning against their enemy. The newly won rewards are transferred to the the player's wallet within the game, which needs a cool-down period of five days.
However, players are allowed cash out their ZOON earnings, even if the cool down period has not yet passed. This will result in higher tax fees levied on the withdrawal transaction. This feature of the network is good in times that players really need to cash out their rewards.
CryptoZoon is a relatively new game, and its development is ongoing currently and thus, they are trying to develop additional methods for the players to earn through the platform. A few examples are:
Earn with ZOON farming
This is a network feature where players are given the opportunity to stake their level three ZOAN monsters to earn their rewards.
Breed, Grow and Earn Farming
Breeding and rowing the Zoan monsters also form a fragment of the future plans set out by the team for  CryptoZoon. With this feature, players can choose two ZOANS, for the purpose of creating new generation of ZOANs that have inherent and enhanced capabilities as the offspring, to fight new enemies and earn more ZOON tokens.
CryptoZoon levies a gas fees of 5% for selling transactions and 2% for buying transactions.
The maximum rewards a player can earn per day is unknown. It is safe to conclude that CryptoZoon is a game built on the foundation of luck, but all transactions are authentic and cannot be altered, as it is powered by a blockchain network.
Several NFT gaming enthusiasts steer clear of this game, as the developers of the game are anonymous and numerous games that run on on the BSC have turned out to be fraudulent. Obtaining all relevant and necessary information about any play to earn game is highly recommended.
CryptoZoon's Whitepaper can be found here.
Have you played the Cryptozoon Play-To-Earn game? Please share your review under comments.