Buying Land in Sandbox – Is Sandbox Land a Good Investment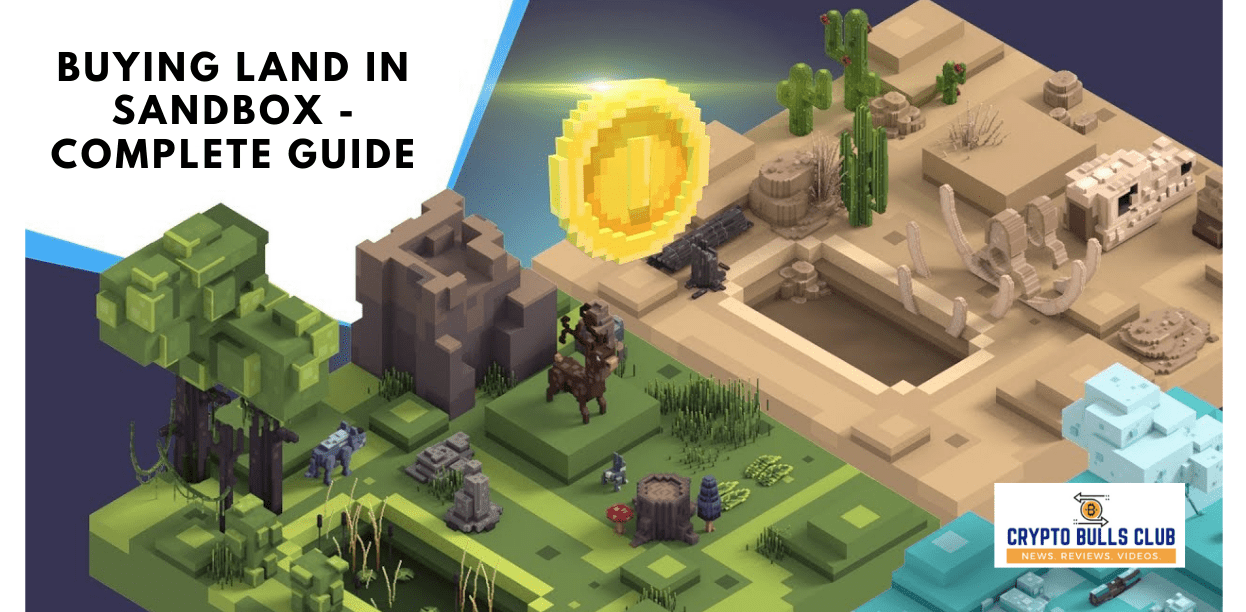 Purchasing land in the Sandbox is a significant step for many investors. It is a great way to multiple your money. Land is a digital real estate in the Sandbox's Metaverse. Each is a one-of-a-kind, non-fungible ERC-721 token on the Ethereum blockchain. In today's article, we'll go over how to get started buying land in the Sandbox. This is a comprehensive guide to buying virtual land in the Sandbox Metaverse. Land has been blowing up recently, and there is still a lot of upside.
This is the article for you if you have any queries about buying and selling land in that Metaverse.
What is the purpose of buying a piece of land in a Sandbox?
Sandbox is a decentralised community-driven gaming, visual art, and game design environment on the Ethereum blockchain where makers and designers can create and commercialise their NFTs, art experiences, and gaming observations.
The primary objective of Land areas is to enable game developers and designers to disclose experiences on them that can be played and monetized by gamers.
Other utilities, such as the possibility to lease out lands and stake on lands, will be available.
There are 2 kinds of land at sale: regular & premium.
Buying Land from Sandbox
Sandbox sells lands during public property sales. The announcement is done publicly in the official communities.
To purchase a piece of land from the Sandbox, you must first create an account. Here we enlist the steps to create an account on the most popular wallet known as MetaMask. It may take a couple of minutes to register.
First and foremost, you must create a MetaMask account and download the MetaMask browser extension. You can sign up for a MetaMask account and download the enhanced version from their official website, which is cited at

https://metamask.io/

Once MetaMask is installed, go to Sandbox's official website and click the Sign-In button in the top-right corner.

Select Web 3 (MetaMask) from the drop-down menu.

You will now be prompted to enter an email account and a user id. After that, click the 'Create Account' button. That's all there is to it; you're done.
You'll also need to have SAND tokens inside the wallet that's connected to your Sandbox profile. You will also need ETH to cover any transaction fees.
Those who are interested in buying lands during public property sales should visit Sandbox's official website and look for the map.
Then there's the business of buying Land:
Click on the land available that you want to purchase.

The available Premium land will be marked yellow while the available regular land will be marked grey.

If you want to purchase the land then click the "Buy" button which is marked blue.

The land would be reserved till the sale is confirmed, decided to cancel, continues to fail (for instance, due to a lack of gas), or expires (after two hours). The land would then turn purple, indicating that it's been booked.

Your bank account should indeed show up, prompting you to confirm the payment and clearly state the amount of gas (charged in ETH) you are using.

Once your bank account confirms the payment, it will be finished. The quantity of gas you select, and also any blockchain congestion, greatly affect the time it takes to complete.

When you are successful, the land will turn red to show that you now own it.
Also Read: Buying Virtual land in Metaverse
What does color in the map inside Sandbox reflect?
How will buying land on the Sandbox make investors wealthy?
Owning a piece of digital real estate known as lands on the Sandbox will provide you with numerous opportunities to earn a very clean steady stream of income. Let's go over all the ways that land could make you a very wealthy person.
Hosting Experience
The primary function of property on Sandbox is to allow users to host life experiences such as games, art museums, stores, scenes, engaging education, and so on. These experiences can indeed be designed and built using Sandbox's own game development software, known as the Game Maker, and then published on any lands owned by the creator. In order to access the experience published on the land, players may be charged an entrance fee in cryptocurrency.
Staking
A future feature in Sandbox will enable landowners to stake cryptocurrency on their lands in exchange for passive bonuses. GEMs, an ERC-20 token that is highly desirable and sought after by asset design professionals, are one of these bonuses. These GEMs, in addition to the regular staking rewards, can be sold on the marketplace. When you provide SAND-ETH cash flow to the UniSwap liquidity provider, the number of Land areas you own acts as a multiplier, raising the amount of SAND cryptocurrency you receive from cash flow mining.
Renting
Landlords will also be able to rent out their own Lands to others, such as game designers and development film companies who missed out on a Land during the initial sales. Once all of the land have already been sold, the supply for land to rent will skyrocket as more people realize The Sandbox and decide to submit an experience there.
Host Contests and Giveaways
Events and giveaways can be organised on Lands, attracting a sizeable number of paying buyers to your land in order to enter the contest or giveaway. You could also allow others to host tournaments or giveaways on your Lands to advertise themselves – for a fee, of course.
Self-Promotion Ads & Affiliate Linking
Are you really an affiliate? Do you own a business? Are you a writer? Are you an artist? Or anyone who wants to sell a product or service? Then why not broaden your reach by utilising some of your advertising space on your own property to promote yourself to gamers and people visiting who would otherwise be unaware of your good or service's existence?
Selling Asset NFTs
If you make a decision to publish an experience on your land, you will be sure to establish entrance requirements in addition to charging a fee to access the experience.
One of the entrance requirements that you can set is that players must first own a specific asset NFT. For instance, in order to play a swashbuckling pirate game you published on the land, a player may be allowed to purchase a weapon from an NFT sword collection you also published on the global market.
Selling Land
Of course, a further way to make money with land inside Sandbox is to sell them, particularly if they are in high-traffic and highly sought-after regions of the Metaverse. Though, evidently, if you calmly hold onto your Land areas for a longer period of time, you will most likely earn more money from a mixture of the other methods described above in the long run.
How much does land cost on Sandbox?
Currently the cheapest land which is being sold on Sandbox is above 10000USD. The average price of the land grew drastically in the last quarter. The average land price shot up from 40 USD to 960 USD in less than a year.
Sandbox land price history
Are there any financial risk?
Ofcourse, there is. So proceed with caution. The land prices may fall in future. It is quite new and yet to be fully adopted. However, given the trends, it is highly unlikely that we see a major drop in the land major price. But if there is, that would be the perfect time to buy it. I personally am quite bullish on Sandbox. It will be interesting to see what future holds for us.
Is Sandbox Land a Good Investment – Final Thoughts
Metaverse is the future and any investment around land inside Sandbox or other Metaverses could actually be a great bet. Reward to risk ratio is huge. If I were to do a sandbox land price prediction, there are high chances that the prices are going to increase 5-10x in less than a year. However, nothing is guaranteed.
A word of caution: Please invest only what you can afford losing as virtual land sale are subjected to speculations.
There will be more land monetisation chances in the long term, so I recommend that you join the Sandbox community and stay up to date on development news. You can follow us on telegram T.me/Cryptobullsclub to stay updated on anything related to NFT, Metaverse and cryptocurrencies. Since land is a limited resource, you should act quickly to secure a piece of this fantastically simple money-making digital real estate! I am really bullish around Sandbox and other Metaverses.
If you have any queries about buying land in the Metaverse, feel free to ask in the comment section.