Mad Lads NFT Collection: Why everyone should be paying close Attention?

The digital asset industry is continuously evolving and we see new projects come up every day that promise to bring a change in the pre-existing narratives. The regularly used crypto wallets are being reimagined with the help of several platforms. One such unique protocol that is changing how the industry functions is Backpack, and their product Mad Lads NFT collection, is at the forefront of this movement. Their technology and ideas are going to alter the industry, and as users, we have to buckle up in order to stay a step ahead. In this article, we will guide you through what is Backpack and Mad Lads as well as talk about why you should be paying a close attention to them.
Before we talk in depth about the Mad Lads NFT collection, it is necessary to understand about Backpack and its purpose
What is the issue with existing wallets?
The wallets that we have in the industry right now are quite primitive and unfortunately haven't changed much since Metamask. They still provide dated features and are also closed sourced. This means that one has to wait for their engineers to add new features. It is also very likely that very soon your crypto keys might be stored in a secure hardware enclave on your smartphone, not Phantom or Meta Mask
What is Backpack?
Backpack is a new age platform that is working towards creating products, protocols and primitives for the Web3 space. The team that is attributed to creating Backpack is Coral. Coral is the same group of people who have also built the Anchor Framework and xNFTs.
The platform has been founded by Armani Ferrante who has a lot of experience in building products on SOL and is also a 100x engineer. He came up with the Anchor, which is a developer framework that is credited with considerably increasing productivity on SOL
How does Backpack solve the wallet issue?
Through its innovative technology, Backpack aims at finding a lucrative solution to the problems with current wallets. The platform takes the super app approach that has also been applied to projects like WeChat or Kakao. With Backpack everyone is allowed to submit a PR or build an xNFT. Their platform acts as a kind of cross-chain Web3 operating system. An additional advantage is that they have also adapted their interface for a mobile version, which enables them to improve at a 100 times faster rate than others.
Mad Lads NFT Collection: How do they look?
Here is how Mad Lads NFT Collection looks like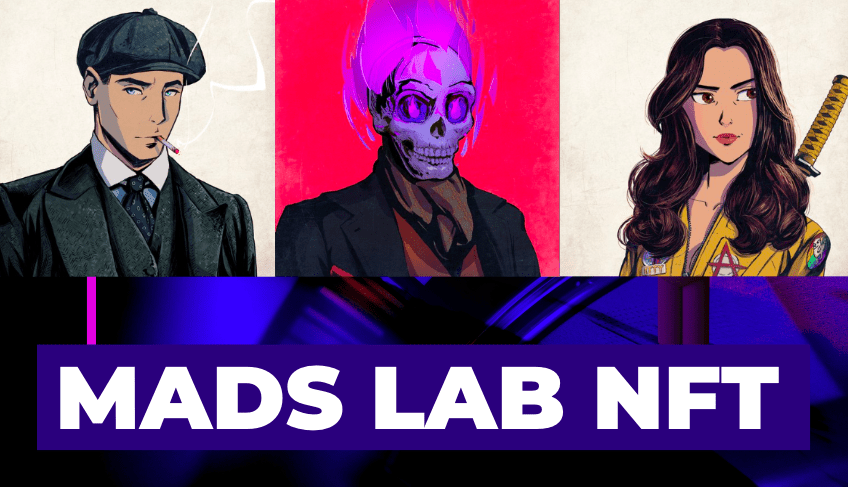 The hype around Backpack
One thing that we are witnessing right now is the gradual hype building up around Backpack. The introduction of this platform is being considered to be the equivalent of an iPhone moment in the crypto world. When the iPhone was launched, it was a significantly revolutionary step since it created a multi-sided platform where developers could build cool apps exclusively for iPhones. This sold more phones, and in turn motivated more developers to build better and more innovative apps. Backpack is just a wallet like the iPhone is just a phone
So far Most Web 1.0 companies that we had have been limited to mere websites. Crypto is in a similar position right now. However with what Backpack is providing, when the transition phase to mobile occurs, these websites and browser extensions will get absorbed into Backpack. They will facilitate the creation of iOS proved native apps which are 10 times easier for most users and developers as well.
Benefits of Backpack
Many users have raised the question that What is possible inside of Backpack. The answer to that is plentiful functions. Some of these include
You can make secure and after payments with the powers of utmost privacy
Messaging and communicating with other users
Trading assets across chains
Establishing a Username & friend system
Getting hands on lucrative Airdrops
Sharing content on the platform
Using xNFTs
Let us elaborate on the last point a little more since it is definitely one of the most exciting aspects of the platform. The apps provided by Backpack are essentially just NFTs. The "x" in the xNFTs is symbolic for eXecutable, tokenized code. You can look at it as if every app on your device was an NFT. This could let you airdrop your app to over a 100 Million people or even transfer a coupon to certain users. What Backpack is aiming at is to instil the magic of smart contracts and tokenization in these apps.
Innovation by Backpack
During the launch of the smartphone and its early days, we saw the technology be integrated with newer and more advanced innovations which led to even more developments. For example, putting GPS and a high quality camera on every phone facilitated the creation of new and unique apps like Uber and Instagram.
Similarly, with the increased adoption of Backpack, we are sure to see some new and exciting changes in the industry. A new frontier of distribution is definitely something that Backpack will bring about. With their technology, you don't need to wait for Apple or Play Store to approve your crypto app. Instead, you have the option of building an xNFT and then efficiently adding it to the xNFT library. This NFT can then be easily distributed to more than 1 Million users addresses in closed Beta
The Role of Mad Lads NFT collection
The role that Mad Lad is playing in this whole scenario is quite simple to comprehend. Mad Lads is basically just the native NFT collection of Backpack. To put it in layman's terms, If Backpack is the village, Mad Lads are the earliest pioneers and OG villagers. The creators behind it are those who are super fans of Backpack and took a chance on the platform.
If you see the potential of the Backpack ecosystem and like what they are building towards, then it seems advisable to purchase and hold an NFT from the Mad Lad collection. This can give you early and exclusive access and to be part of its crazy fun, and vibrant community and profit through its growth. Since the Mad Lads community is both organic & robust, you are sure to gain from the buy.
The NFT collection is acting like a vehicle, driving ahead the ideology of Backpack. As a result, we believe that with the access to Mad Lads, you can get a key role in shaping the features, experiences, and magic of the main Backpack platform.
Minting of Mad Lads NFT collection
While nothing has been officially confirmed yet, we can see that there have been a few hints toward the fact that the minting will be initiated this April 2023, and will occur at a mint price of 7 SOL. According to Solana Legend (Managing Partner at Frictionless Capital and the Co-Founder of monkeDAO).
"Half of the 10k will be WL'd, with the remainder going to a fair, open, and *bot free* mint. The WL claim to the mint itself will be *inside of Backpack*"
Since very recently, the projects like DeGods and Y00ts have exited the Solana chain, the network's NFT market is facing a void due to the big vacuum left by the projects having left. Since Mad Lads is touted to be such a massive release, we feel that its mint is likely to fill that gaping hole. The NFT collection will most probably assume a top position as we see users who are waiting eagerly for the mint.
In fact, we have also noticed that the Mad Lads collection is being initiated at the same period as the launch of Solana Mobile. The Solana Mobile Saga that is launching April 13, 2023, is being dubbed as SAGA phone and is actually the very first undertaking of a crypto native mobile stack that will work hand in hand with Backpack.
Also Read:
To conclude
Backpack is coming in as a new and improved alternative to the MetaMask wallet that during its launch was also considered a revolutionary development. The only difference is that Backpack seems like a 10 times better advancement than Metamask. With the platform we can expect new launches and innovative apps to become the next big thing, and this is sure to benefit all users greatly.