Luna Price Prediction May June 2022: Will Luna Reach 1USD?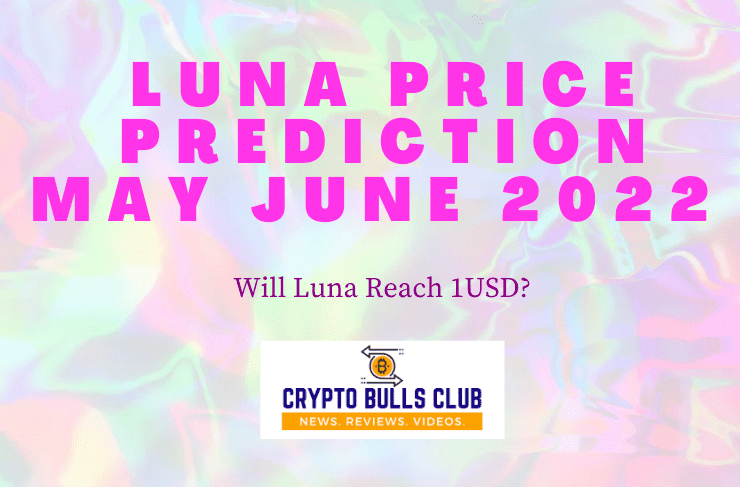 Luna has been falling steeply in the last few days. There has been a new Luna Revival Plan announced but from how the fall has been so bad that the revival looks next to impossible. Investors lost their savings. It will take enormous time and effort in building the community again, and gaining the trust of the investors.
Even if LUNA tokens goes up again, will the community trust their savings with Terra UST or Luna? The investors are just waiting to take out their investment, even if the prices go normal.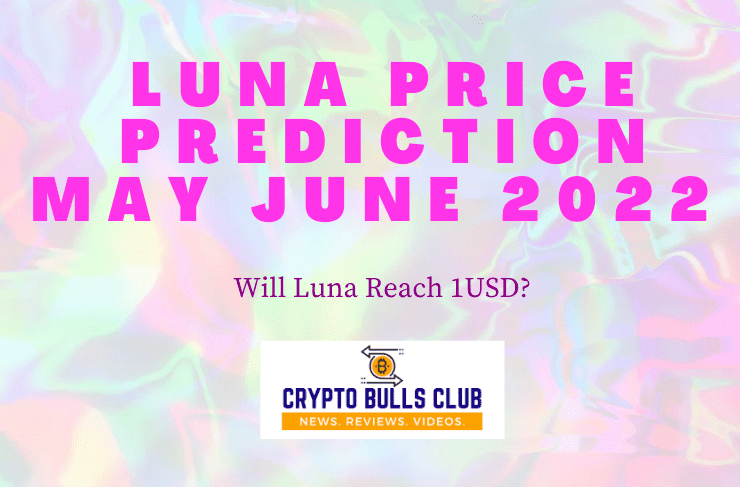 What is Terra Luna and UST?
UST is an algorithmic stablecoin, and Terra Luna is a blockchain based cryptocurrency that is linked to UST. UST maintains its price by minting Luna, when the price falls below 1 USD, and buying UST with it, and vice versa.
Holders of Terra Luna can vote on governance protocols.
Luna aims to become the largest decentralised algorithmic based stablecoin.
What is happening with Luna Recently?
There has been a lot of drama happening with Luna recently. Luna'a price fell from 115USD to less than 0.0001 in a few months time. At the time of writing this article, Luna is trading at 0.0001894USD.
If you had purchased 100,000 worth in April, you would now be left with less than 20 USD worth of tokens.
UST lost its 1USD peg and fell drastically. To keep the peg, the algorithm kept selling Luna to buy UST.
The Luna circulation supply increased from 340Million to 6.5 Trillion.
Investors' wealth is wiped out in less than a week's time. Though Do Kwon has suggest a revival plan for Luna, however it is too early to say if it is going to be enough.
What is the New Terra Luna Revival Plan Suggested by Do Kwon?
Do Kwon in a post on Agora forum, said, Terra Luna should be forked and the new chain should be limited to 1 Billion new tokens and he suggested validators to reset the network, and distributing the 1Billion tokens in the following manner:
40% – 400M tokens to Luna Holders before the de-pegging happened.
40% – 400M tokens to UST holders
10% – 100M tokens to Luna holders post de-pegging, before the network was halted. This is to incentivise the Luna buyers for their role in attempting to provide network stability.
10% – 100M reserve tokens for future development
However, it is not an easy task to distribute the tokens among the holders who were holding the same on the centralised exchanges. Exchanges need to come out with a plan on how this can be achieved.
The current focus is to keep the Layer 1 blockchain alive and increase the number of builders and users. Once the dust is settled, the focus can then be shifted to reviving the decentralised money ecosystem.
Is this new Plan Enough for Luna Revival?
The plan is good, but is it enough? Only time will tell. According to me, the revival plan is good, but not enough. There are a lot of questions on how this is to be implemented. The brand 'LUNA' is already hampered. There is a huge loss of trust. Where will the liquidity come from? Once this new plan is implemented, will that be able to bring the price back to the original prices? No.
How will you take care of the inflation? There are a lot of questions answered.
How to buy Luna with BTC, USDT?
Luna can be purchased from the following international exchanges
How to buy Luna from Indian Exchange (in INR)?
Luna Price Prediction 2022: Can Luna Reach 1 USD?
Currently, Luna is trading at 0.0001894USD, with more than 6.5 Trillion supply. When burnt to 1Billion Supply, the price should be close to 1.23 USD, keeping the market cap same.
So Luna can reach more than 1 USD, when the new Luna tokens are distributed. Some positive sentiments can add push to the price. It all depends on how the community behaves.
On 4th of April, 2022, Luna had a market cap above 40 Billion USD, and the current marketcap is 1.22 Billion USD. If Luna were to reach its ATH in terms of marketcap, Luna could be priced 32.78 USD.
This, however, will not be happening at one go.
There is a lot of damage control Do Kwon and the entire community needs to do.
Luna Price Prediction in INR: Can Luna Reach 100 INR?
As mentioned above, Luna can reach 1.23 USD, if the marketcap is to remain the same, post the Luna fork. Converting 1.23USD to INR, we can see, that it is possible for Luna to cross 100 INR, if the circulation supply is to be capped to 1 Billion.
At max, if Luna reaches ATH in terms of marketcap, with 1 Billion supply, Luna could reach more than 2500 INR.
Should You buy Luna in May 2022?
A lot of investors are buying Luna after seeing the price drop from more than 100 USD to less than cents, thinking the price could go back up and make them millionaire. Please understand we should not just be looking at the price alone, but the marketcap.
The circulating supply is now in 6.5 Trillions, which was earlier only around 350 Million which is 18571X more.
So, at the current circulating supply, Luna can never reach 1USD, forget 100USD. If you are buying Luna now, you should think of making some quick profit and not think of becoming a Luna Millionaire.
Once your capital is out, you can hold the rest of the tokens.
Currently Luna is very volatile, and price can even go down more than 90 percent from here.
Luna Price Forecast: FAQs
Can Luna Reach 100USD?
I do not think Luna can reach 100USD immediately. With the current token circulation, it is impossible. But once the Luna Fork is done, and the number of max tokens is capped to 1 Billion, there is a possibility of Luna touching 100USD. This may take 2 to 3 years though.
Is Luna a Scam?
Luna is definitely not a scam. However, the recent de-pegging of UST resulted in drastic fall of Luna. The drop was unfortunate. The entire blockchain is close to a collapse.
Can Luna Recover?
It is difficult to predict whether Luna can recover from the blow it received. However, with the recent new Luna Revival Plan, there is a good chance of Luna recovering. However, it may take a lot of time. Read this article if you would like to learn more about what happened to Luna in May and if it can recover in 2022?
Can Luna Reach ATH in 2022?
I do not think it is possible for Luna to cross 115USD and touch ATH in 2022. However, in future, there is a great possibility of crossing ATH.
Our article on Luna Price Prediction 2022 is based on many calculations and assumptions. Please do not take it as the final figures. Do your own research and consult a financial advisor before making any financial decision.