Scotty Beam Review: Cross Chain NFT Teleporter – Is it a good investment?

The fast-rising NFT sector is a critical driver of the rapidly expanding blockchain industry, and it will play a critical role in the widespread incorporation of blockchain technology in the next years. Recognizing the tremendous growth of the industry as well as the expanding utility of NFTs, there seems to be an evident demand for additional solutions in this area of technology.
NFT compatibility between blockchains, as well as the simplification and enhancement of the user experience, are required in order to generate additional value and increase the use-cases, applications, and monetization prospects of NFTs and the Metaverse.
What is Scotty Beam?
Scotty Beam is a cross-chain NFT teleporter which means, NFTs from one chain can be moved to a different chains with Scotty Beam.
Known as the Space Hamster, it is claimed to introduce intelligent beings into the Metaverse, allowing for cross-chain possibilities and determining the standard for the entire NFT market.

Using Scotty Beam, you can not only transport your NFTs over any blockchain, but it could even assist you in creating your NFTs in any network with just a few clicks!
Several other exciting features will be available shortly, including NFT Verification and Scam Prevention, a multichain NFT collection gallery, and collaborations with cross-chain NFT businesses.
I'm in the big boys club! Very good company, lots of real gems! 💎💎💎 https://t.co/nvrPyubrb3

— Scotty "I Hate Mondays" Beam (@ScottyBeamIO) November 8, 2021
How does Scotty Beam work?
Using Scotty Beam's NFT Transporter, users will be able to 'beam' their non-fungible tokens (NFTs) to any blockchain, such as Ethereum, BSC, Solana, DOT, and FLOW, among others, providing cross-chain potential and setting the example for the whole NFT market.

Users would be able to link their wallets quickly after the commercial launch and bridge their favorite NFTs through one EVM blockchain towards another, in less than a minute, thanks to the simple, user-friendly, and already working teleport dApp.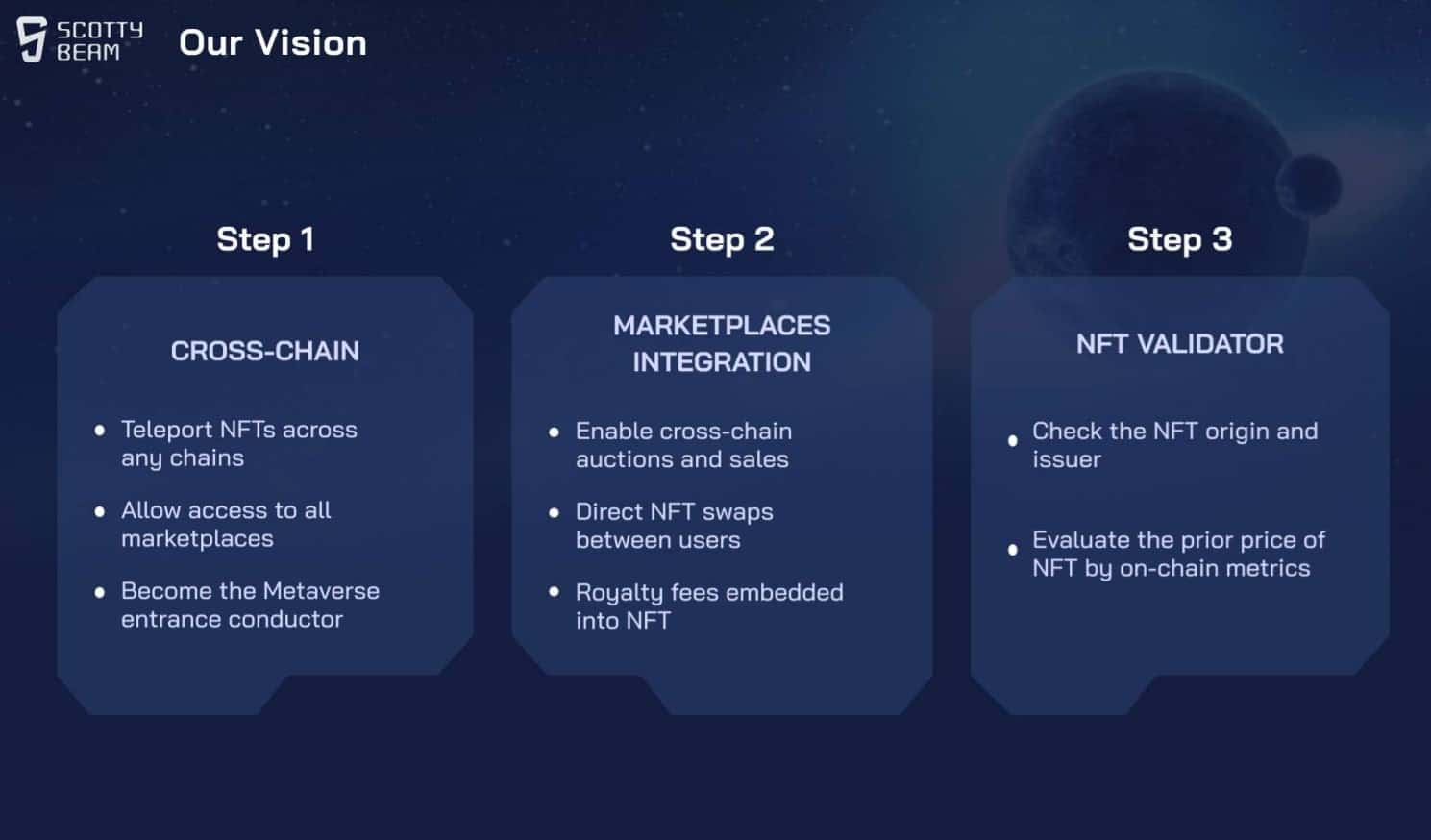 (Image credits – www.scottybeam.io)
Cross-chain NFT Gallery as well as peer-to-peer swaps
This new cross-chain NFT gallery feature will provide users with the ability to start exploring their NFT catalog, share it with their friends, get an estimate of the value of their collection, and engage in cross-chain NFT transfers with other collectors. Scotty Beam also will release an NFT collection that includes specific utilities that are built-in.
Bringing the NFT Industry and Metaverse together
Scotty Beam will be able to incorporate and work with existing NFT communities, giving producers, proprietors, collectors, and projects coverage for their NFT holdings to a much wider audience, allowing them to purchase, sell, trade, and auction their NFT assets.
What is Scotty Beam Token Validator
The Scotty Beam Token Validator will let users validate an NFT asset's origin and issuer, providing the ability to identify pirated digital IP and its actual rights owners. Using the Scotty Beam Token Validator, users will be able to verify the origin and issuer of an NFT asset, giving them the potential to recognize counterfeit digital IP and the legitimate rights owners of that IP.
Scotty Beam will be using on-chain statistics to evaluate and measure the trading history and historical transaction prices of NFTs in order to present users with an assessment of their NFT assets. Scotty Beam will employ its very own cross-chain oracles to do this.
Scotty Beam Roadmap
Teleport across cryptocurrencies such as Ethereum, Solana, and Basiscoin Share, and others.
Partnerships with various NFT markets to enable cross-chain auctions.
NFTs can be exchanged with friends and members of the community.
Ownership can be proven by proving the origin and price of the token as well as trading history.
Who are the investors and partners of Scotty Beam? 
In addition to investors such as Magnus Capital, Maven Capital, Seedify fund, and DCI, Scotty beam has a number of partners, including Hololoot, Yarloo, Arcade network, and Kaizen finance. They have also recently established a cooperation with the company Pixel Verse. Scotty Beam and PixelVerse have a collaboration agreement under which both projects will collaborate for the improvement of NFT solutions and generalized cross-chain capabilities in the near future. Both services are complementary to one another and work together to achieve a shared goal: making it simple to issue, trade, create, and exchange NFTs throughout numerous blockchain networks.
Being successful is easy when you have the right support system around you. One of the newest partner for your lil hamster is @dci_crypto hailing straight out of Amsterdam. Another great country charmed by Scotty "The Miracle Worker" #Hamsterdam #Crypto #Partnership pic.twitter.com/xge98g7tSK

— Scotty "I Hate Mondays" Beam (@ScottyBeamIO) November 4, 2021
By making use of a consumer sentiment sampling strategy across social networking sites and cryptocurrency sectors, PixelVerse intends to be the go-to destination for content creators in the digital media space. Combined with PixelVerse's mindset of rapid adaption to new ideas and desire to collaborate with other ambitious projects, this can help the company maintain a competitive advantage. Scotty Beam contributes to the enhancement of PixelVerse's offering package by providing the following features:
Token collections can be created on any blockchain and promoted on a variety of exchange platforms.
Allow for cross-chain bidding and sales to take place.
Direct and support flawless NFT exchanges between users in a straightforward manner.
Scotty Beam Token and its Utilities
A number of critical functions will be performed by the $BEAM token within the Scotty Beam ecosystem. To pay transfer costs, peer-to-peer exchange fees, and NFT verification fees, $BEAM will be used as a payment method, with 90 percent of payment tokens getting destroyed, generating a deflationary system in the process. Retaining $BEAM tokens will provide community members with access to fee savings and extra incentives for staking NFTs on behalf of their business partners. When purchasing Scotty Beam's utility NFT collection products, players will be able to save money and gain access to extras by using the code $BEAM.
Scotty Beam Tokenomics
Token name: $BEAM
Token Type: BEP-20
Total supply: 750,000,000 $BEAM
Initial Market Capitalization: $435,000
Token Listing Date: November 9th, 2021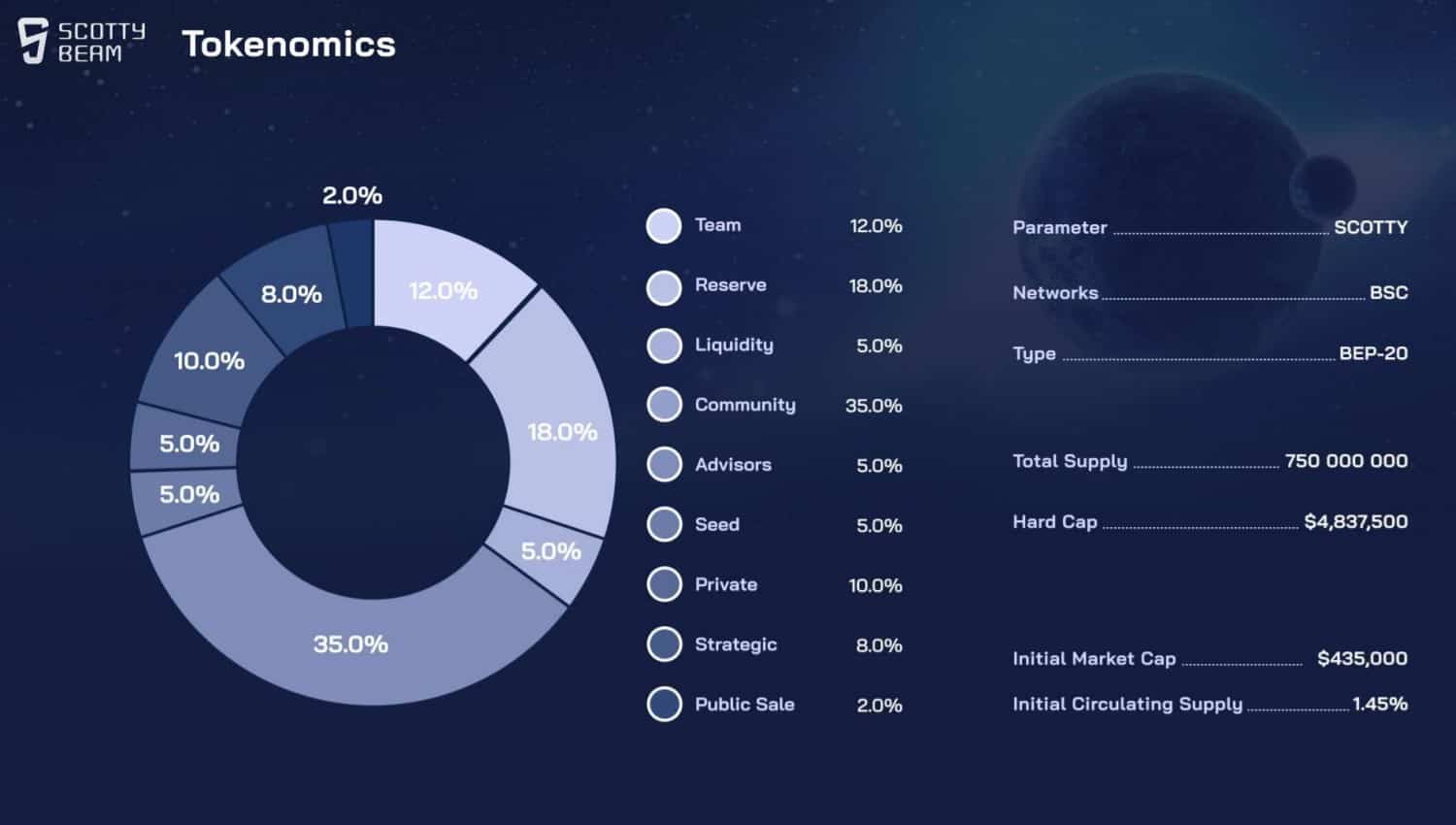 (Image credits – www.scottybeam.io)
Scotty Beam IDO: How to participate in Scotty beam IDOs?
Scotty Beam will be conducting their IDO on notable launchpads like Seedify.fund, CyberFI, Trust pad, Kaizen Finance, and Equinox.
The IDO Price would be 1 $BEAM = 0.04 and the dates are as follows:

Seedify.fund – 9th November
Trustpad – 8th November
Kaizen Finance – 8th November
Equinox – 5th November
and public sale – 10th November.
Let's embark on a journey with @ScottyBeamIO and get to know all the details about this unprecedented project.🚀🐹

👉Scotty Beam IGO – November 9th
💵$BEAM IGO Price: $0.04
🔐Vesting: 20% at TGE, then 20% every mth. for 4 mth.

Read the full article nowhttps://t.co/jcAUFYq1sE

— Seedify (@SeedifyFund) November 1, 2021
Scotty Beam: Should You Invest in the Project?
Some of the world's most prominent investors are involved in the initiative. Scotty Beam has been well-publicized and has a high probability of success. The utilities of Scotty Beam are immense. Cross chain teleporting of NFTs is a real problem of NFTs and Metaverse, that Scotty Beam team is trying to solve. And they have got some great investors backing them. I am expecting SCOTTY BEAM to give great returns to the IDO participants.
Which way do you lean on this project? Let us know what you think in the comments!