China Narrative: Top Chinese Cryptocurrencies to buy Now

The last year has been quite tumultuous for the cryptocurrency landscape, however, the industry is beginning to exhibit some bullish movements. Even though these developments are in the nascent stage, we have simultaneously seen numerous manias surrounding AI, LSD and ZK.
However, it is now a popular opinion that the next narrative is undoubtedly centred around Chinese cryptocurrencies. in this article we will give you a brief overview of this narrative and tell you which Chinese coins are popular at the moment.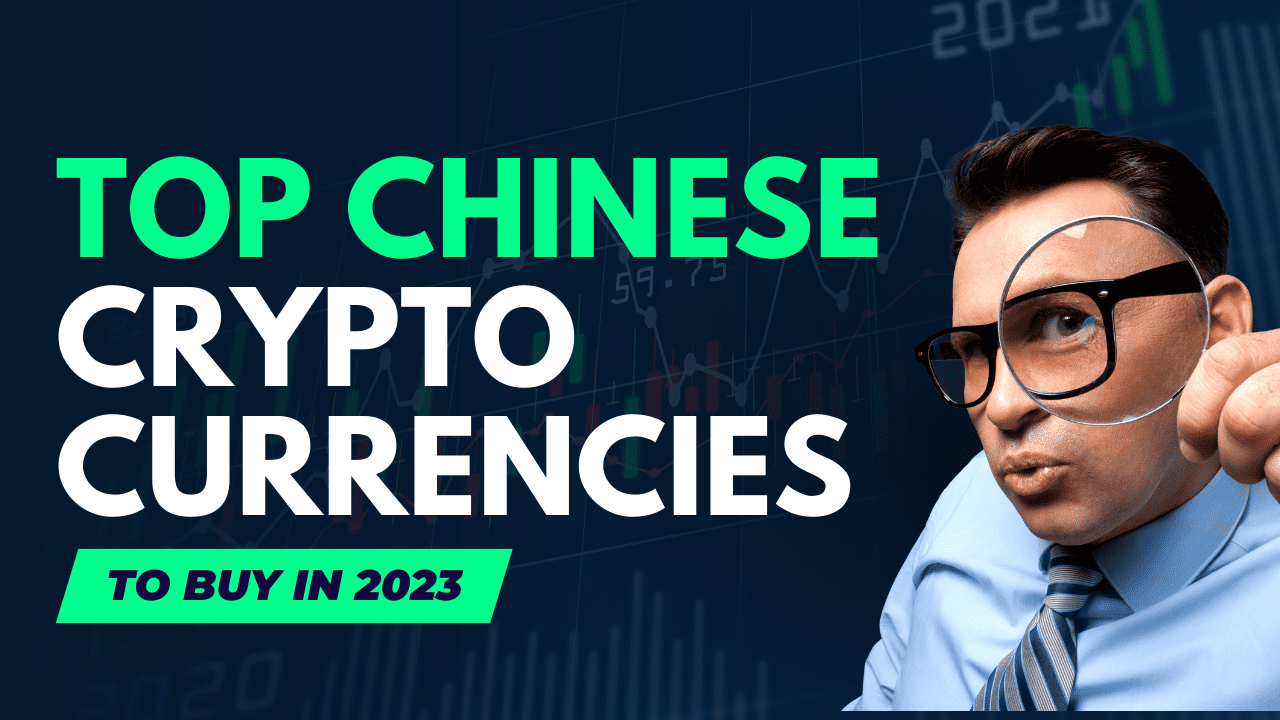 Reasons for the craze around "Chinese Crypto Coins"
More and more analysts on Crypto Twitter are predicting a "China Coins Pump" in the coming days. It is mostly linked to regulatory relief in Hong Kong and the likelihood of "quantitative easing" in China. Massive liquidity injections by the People's Bank of China (PBoC) corresponded with an increase in crypto market capitalisation. In addition, the introduction of a licencing framework for Virtual Asset Service Providers (VASP) in Hong Kong (which might go into effect as early as June 1, 2023) piqued public interest in "Chinese Cryptos."
It should be emphasised that the initial pumps of this exhilaration have already occurred. "Chinese Polygon" CoinFlux (CFX) increased 140% in a few days, while OKB reached a new all-time high after the OKBChain launch was announced.
That being said, there are a few things you should remember. Neither of the given stimuli should be overstated: the true scope of "money printing" still remains to be known, and Hong Kong licencing will have no direct impact on retail consumers. Therefore, the notion of a "Chinese" currency is still a little hazy. People, on the other hand, do not want to miss the mini-rally and are actively looking for ways to gain from it.
Hong Kong on Crypto
As mentioned earlier, Hong Kong is embracing cryptocurrency with its upcoming scheme for Virtual Asset Service Providers (VASP), the local word for cryptocurrency exchanges. However, we need to inform you that this doesn't really imply that cryptocurrencies are going to be "completely legal" in the city for everyone.
The VASP framework permits them to limit access to certified professional investors exclusively; while ordinary investors are not permitted. After additional deliberation, the Hong Kong government has suggested that the Securities and Futures Commission (SFC), the city's securities regulator, may explore retail access to virtual asset services in the future.
The Securities and Futures Commission of Hong Kong issued an official statement on Monday outlining its proposal to enable individual retail investors to trade cryptos such as Bitcoin and Ethereum. Retail investors will be able to trade major cryptocurrency holdings on exchanges approved by the regulator. But nonetheless, any virtual asset trading platform must consider and prioritise investor protection first. This implies that they must check items such as exposure limits, risk profiles, and so on.
Top Chinese Cryptocurrencies to buy Now (China Trend)
There are several Chinese Cryptocurrencies that you can find in the market today. Some of these assets can prove to bring many profits to users in the future. In this article, we explore the five best Chinese cryptocurrencies to buy in 2023 alongside a brief overview of each of them. These tokens include:
Neo (NEO)
Vechain (VET)
Conflux (CFX)
Alchemy Pay (ACH)
Filecoin (FIL)
Flamingo Finance (FLM)
Highstreet (HIGH)
SelfKey (KEY)
Anyone who is into crypto since 2017 knows NEO very well. It was the first Chinese Ethereum alternative, and the coin crossed 200USD during the 2017-18 bull run.
Neo describes itself as a "rapidly growing and evolving" ecosystem with the objective of establishing the basis for the upcoming era of the internet. When it was first released in February 2014, this project, first known as Antshares, was thought to be China's first-ever public blockchain. It's frequently compared to the Chinese version of the Ethereum network. NEO is the platform's native token.
NEO token holders are rewarded with a part of the network's ownership and may participate in governance by voting for members of the Neo Committee, which governs the Neo blockchain. The Neo Committee performs particular functions, such as keeping the network alive and altering crucial blockchain settings. NEO holders also get a passive distribution of the network utility currency, GAS.
Though NEO looks dead, but with this Chinese narrative warming up, NEO could see a massive pump in 2023.
Coin Chart (as of 3rd March 2023)
| | |
| --- | --- |
| Price | $11.55 |
| Market Cap | $814,923,035 |
| 24 Hour Trading Vol | $97,366,794 |
| Circulating Supply | 70,538,831 |
| Total Supply | 100,000,000 |
VeChain (VET) is a flexible enterprise-level Layer 1 smart contract ecosystem. VeChain intends to leverage distributed governance and Internet of Things (IoT) technology to build an ecosystem that addresses key data challenges for a wide range of global businesses, including healthcare, energy, food and beverage, environmental consciousness, and SDG goals.
VeChain launched in 2015 as a "private consortium chain", collaborating with a number of businesses to study blockchain applications. VeChain began its move to the public blockchain with the ERC-20 token VEN in 2017, before establishing its own mainnet in the year 2018 under the ticker VET. The VET token is used to produce the VTHO token and also serves as a value storage and transmission medium.
Coin Chart (as of 15th March 2023)
| | |
| --- | --- |
| Price | $0.02413 |
| Market Cap | $1,749,616,667 |
| 24 Hour Trading Vol | $100,144,724 |
| Circulating Supply | 72,511,146,418 |
| Total Supply | 85,985,041,177 |
Conflux is a high-performance layer 1 consensus blockchain that uses a distinctive Tree-Graph consensus mechanism to enable the simultaneous processing of nodes and transactions for growth in output and scalability. Conflux is touted to be China's sole "regulatory compliant, public, and permissionless blockchain". It offers a distinct edge for businesses growing and developing throughout Asia and integrating decentralised enterprises to boost the global DeFi ecosystem.
Conflux's token economy is dependent on the $CFX token, a measure of value on the protocol that allows token holders to settle transaction costs, gain incentives through staking, rent storage, and partake in network governance. CFX also actively encourages and pays miners that maintain the Network's security.
Coin Chart (as of 15th March 2023)
| | |
| --- | --- |
| Price | $0.33 |
| Market Cap | $882,648,230 |
| 24 Hour Trading Vol | $1,446,161,825 |
| Circulating Supply | 2,654,492,651 |
| Total Supply | 5,278,164,274 |
Alchemy Pay (ACH), founded in Singapore in 2018, is a payment solutions company that bridges fiat and crypto markets for customers, merchants, developers, and institutions worldwide. It lets online as well as offline retailers to accept both fiat and cryptocurrency, while promoting simple onboarding to blockchain ecosystems, and rendering web3 services universally available. Alchemy Pay is now supported in over 70 countries, across 300 payment channels, and has touchpoints with over 2 million merchants thanks to relationships with bigwigs of the industry like Binance, Shopify, NIUM, and QFPay.
The ACH coin from Alchemy Pay is an ERC20 token native to the Ethereum network and is an essential component of the Alchemy Pay ecosystem. It is employed for paying transaction fees, network use rewards, and transaction cost reduction, and it is committed by business associates throughout the onboarding process.
Coin Chart (as of 22nd February 2023)
| | |
| --- | --- |
| Price | $0.03935 |
| Market Cap | $198,870,922 |
| 24 Hour Trading Vol | $185,260,811 |
| Circulating Supply | 5,082,155,932 |
| Total Supply | 10,000,000,000 |
Filecoin is a peer-to-peer system that enables anybody on the internet to save and access files. It has built-in monetary rewards that guarantee that data is consistently and constantly saved and restored for as long as the user desires. FIL is the network and native cryptocurrency of the Filecoin platform. Storage companies get FIL units for file storage. The Filecoin ledger tracks transactions to transfer and collect FIL, together with confirmations from storage servers that serve as proof for their files being stored appropriately. FIL tokens are also employed to work as an economic incentive. This works as an assurance mechanism for the reliable storage of data.
Coin Chart (as of 15th March 2023)
| | |
| --- | --- |
| Price | $6.83 |
| Market Cap | $2,761,680,899 |
| 24 Hour Trading Vol | $1,002,515,584 |
| Circulating Supply | 404,230,104 |
| Total Supply | 1,965,006,905 |
Flamingo Finance serves a Decentralized Finance (DeFi) protocol enabling individuals to exchange and wrap assets, offer liquidity, and collect interest via staking. The protocol was first introduced by Neo Global Development (NGD), as a vehicle to emphasise Neo's aim to establish the Smart Economy. The aspect of DeFi was an integral aspect of this vision. Users on Flamingo can accomplish each of these tasks with a lot of ease and simplicity thanks to Flamingo's SmartStake function.
The Flamingo token (FLM) serves as an incentives token, promoting liquidity providers on the protocol as well as attracting more members to the community. Users could receive FLM simply by putting resources into liquidity pools and performing stakes of their liquidity pool tokens (LP tokens). By the use of smart contracts, the platform enables automatic interactions across cryptocurrency tokens upon the Neo N3 blockchain.
Coin Chart (as of 15th March 2023)
| | |
| --- | --- |
| Price | $0.097835 |
| Market Cap | $44,674,721 |
| 24 Hour Trading Vol | $5,008,247 |
| Circulating Supply | 456,311,908 |
| Total Supply | 456,311,908 |
Highstreet is a Metaverse and MMORPG platform with decentralisation at the core. It is a protocol where both conventional businesses and crypto companies may leverage their platform to effectively incorporate and grow their position in Highstreet World. Highstreet has strived for interoperability from its inception, collaborating with important leading experts ranging from platforms like Binance to blockchain networks like AVAX.
HIGH Tokens are Highstreet's native utility and governance assets. These Tokens find an application in many dimensions. In some game areas, they become necessary to enable progress as well as provide access to unique events. HIGH Tokens also serve as the in-game money for premium products. They can be utilized to purchase interesting things that may be a part of the game. On the Highstreet Marketplace, for example, you may buy real estate or limited edition merchandise using this token. Holders of HIGH Tokens also have access to the option of developing and voting on on-chain governance propositions to define upcoming Highstreet functionalities. The voting power is computed with respect to the proportion of the coins staked.
Coin Chart (as of 15th March 2023)
| | |
| --- | --- |
| Price | $3.54 |
| Market Cap | $250,367,507 |
| 24 Hour Trading Vol | $55,216,600 |
| Circulating Supply | 31,289,230 |
| Total Supply | 100,000,000 |
SelfKey is an identification platform built on the foundation of a blockchain. The program offers a framework for managing identification data for people, businesses, exchanges, fintech firms, and banks (oftentimes KYC). SelfKey restricts access to critical information and files saved on it by leveraging both public and private key encryption. Furthermore, SelfKey includes a specially designed approach that enables individuals to rapidly exchange their fundamental information such as name, gender, age, or other relevant ID data with external entities as needed. This system is responsible for preventing security breaches and identity fraud.
The utility token of SelfKey, KEY is an ERC-20 token as the SelfKey identity management system is developed on top of the Ethereum blockchain. KEY is the system's primary payment mechanism and can be utilized to access services and items in the marketplace. KEY is fundamental to the ecosystem's operation since all the commodities and functionalities offered by the platform are accessible only after the payment of a small fee that is done in terms of the KEY token. This fee is then empoloyed to fuel the 'identity ecosystem' through a multitude of disciplines.
Coin Chart (as of 15th March 2023)
| | |
| --- | --- |
| Price | $0.01163 |
| Market Cap | $67,085,415 |
| 24 Hour Trading Vol | $62,561,278 |
| Circulating Supply | 5,999,999,954 |
| Total Supply | 5,999,999,954 |
Risks Involved in Investing in these Chinese Coins
Crypto moves on narratives, and in 2023, there are a lot of narratives running apart from these Chinese coin narrative. Also, these pumps could get very riskier. Coins could lose all the gains in a very short time. So, only invest a very small amount, and do not forget to take profits. Let us know if we missed mentioning any top Chinese project.
Also, do not miss checking this article where we mentioned all the crypto narratives that could play in 2023.